Today's world is significantly moving through the wheels of technology, and particularly mobile apps in almost every sector of life. Therefore, overlooking the importance of developing a mobile app for your business can be detrimental to the success of your business. When every business and institution is getting a mobile app for making their system better, simpler, and easier, it's crucial for the health care industry to make processes easy with a hospital mobile app.
Benefits of Mobile Devices in Healthcare
Healthcare is an industry which is people most care about and want to receive the best medical care no matter what price they pay for it. And, mHealth or hospital mobile applications can bring a major improvement in the ways the healthcare system works. With the use of mobile apps in the healthcare sector, the lives of both patients and doctors can be improved in many ways. Healthcare mobile apps can help in reducing long waiting times for doctor's consultation and emergency rooms, treatment tracking, more relevant disease diagnosis, and provide medical test reports and health status via notifications. The types of mHealth apps include fitness, lifestyle management, nutrition and diet, women's health, medication adherence, healthcare providers, and disease management.
The implementation of the machine learning neural network into disease detection and prevention via the healthcare mobile application development brings several benefits.
The benefits of Mobile Apps in Disease Detection
Hospital mobile applications lessen the necessity to depend on various medical professionals in the diagnosis and treatment process.
Efficient diagnosis workflow makes the process faster, more effective, and less costly.
Disease detection mobile apps reduce the delivery time of testing results and increase the accuracy of those results.
The modern disease detection and medicinal recommendations can be used in remote areas where medical facilities are not easily or timely available.
Due to its numerous benefits, medical applications for android and iOS have become one of the fastest-growing categories of apps in the mobile app market. According to research by ResearchandMarkets, the global healthcare apps, or mHealth Apps Market size, it is expected to reach $236 Billion by 2026 is expected to rise at a CAGR of 44.7% over 2019-2026. The demand for quick and efficient healthcare systems and processes, a growing volume of patient data, and an increase in technological knowledge are driving the demand for Healthcare IT solutions.
The Industry Trends and the Most Popular Mobile Medical App Functions
Moreover, physicians are recommending the use of mHealth apps to their patients, which likely will increase the rate of adoption in mHealth apps among the users. Hospitals can have their healthcare app for different concerns and areas. The types of mHealth apps include fitness, nutrition and diet, healthcare providers, lifestyle management, women's health, medication adherence, and disease management. If you want to develop an app for a hospital, you are first needed to figure out what kind of app category suits your business the most. Let's understand some of the most useful apps in this sector.
Telemedicine App
Telehealth app development is one of the fastest-growing segments in the healthcare IT industry. This healthcare mobile app provides medical assistance and doctors' consultation to patients via video and lives chat. This contributes to reducing long waiting times for turn. Telehealth apps can be used in various medical fields, from chronic diseases, psychiatry, and therapy to diagnosis and treatment of ailments.
Besides long-distance contacts, telemedicine is also convenient for medical Care, taking doctor's advice, healthcare reminders, Education, Intervention, Monitoring, and remote admissions.
Disease Detection
Healthcare is a department where delays in treatment may cost lives. So, a responsible group of humans is putting their efforts to make disease detection and prevention faster and more useful. Hospitals can make use of Artificial Intelligence, machine learning, and neural networks to garner quicker and more detailed predictive analysis of diseases to start treatment faster. With the use of algorithms, a vast amount of data can be analyzed in a much shorter time as compared to conventional disease analysis.
How Does the Disease Detection System Work?
Medical Diagnosis System is used to diagnose diseases based on the set of symptoms. All diseases have a set of symptoms for them. For instance, the symptoms of malaria include high fever, headache, nausea, vomiting, shaking chills, muscle pain, profuse sweating, abdominal pain, diarrhea, anemia, convulsions, and bloody stools. If a patient's symptoms are matched with all or many symptoms of malaria, the algorithm ranks malaria at the top of the diagnosis result.
Hence, the characteristics of patients are entered into a computerized knowledge base, and software algorithms produce patient-specific recommendations. Practitioners, health care staff, or patients themselves can manually enter patient characteristics into the computer system; alternatively, electronic medical records can be enquired for recovery of patient characteristics.
How Does the Disease Detection Algorithm Work?
For each diagnosis, the expected set of symptoms is determined.
The symptoms are entered manually into the system.
The algorithm gives a score to each diagnosis by the number of symptoms resulting in the diagnosis.
It then gives rank to a number of the diagnosis according to the scores obtained.
The system then selects the highest score diagnosis, and check whether anyone symptom of the disease is absent or present.
Check for all symptoms and then move to the next predicted diagnosis.
If it finds a new diagnosis, it begins from the start or otherwise stops and shows the result.
The use of modern healthcare technologies in the form of a hospital app or a medical app for android and iOS is particularly useful for time-sensitive diseases such as viral infections, fatal disease, and skin cancer detection. As often as not, diagnosis depends on a sum of clinical screenings, analysis, and examinations, which usually take a lot of time. On the other hand, the use of neural networks in a healthcare app can deliver test results in a few hours. This considerably increases the efficiency of the treatment and the accuracy of the results as well.
Conversational Bots in Healthcare
Healthcare Chatbot Interactions are Expected to reach 2.8 Billion by 2023, and the Conversational bots are becoming the Future of the Healthcare industry.
According to the new research, Digital Health: Disruptor Analysis, Country Readiness & Technology Forecasts 2018-2023, the adoption of chatbots will strengthen in the near future.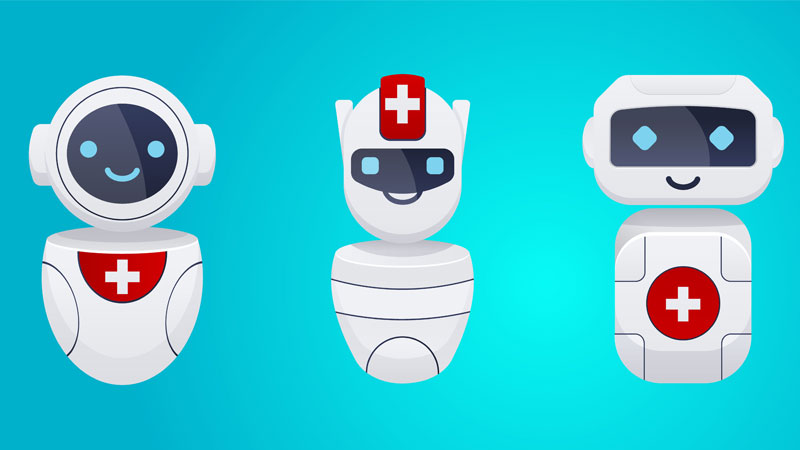 There are a number of prospects associated with chatbot-integrated conversational healthcare app because:
With healthcare apps, users are getting more comfortable using chatbots to discuss their healthcare issues and requirements.
Chatbots are becoming an important component of people's lives in other sectors, and they look for the same in medical application for android and iOS.
The use of chatbots is becoming an essential part of customer experience strategies of modern hospitals and healthcare providers via a healthcare app.
Chatbots integrated healthcare apps may fulfill the scarcities of medical professionals and practitioners to support increasing diseases and aging populations; for instance, the German government expects to require 3 million more nurses by 2060.
Increased sophistication and awareness of conversational AI platforms in multiple fields of life is leading to a greater fraction of inquiries being responded and accomplished entirely via chatbots integrated healthcare apps. As chatbots become frontline in healthcare, this may free up the medical staff time and save countries' healthcare systems for about $3.7 billion by 2023.
More Features in a Healthcare App
Healthcare apps and Hospital apps features may range from the following four categories:
Communication Capabilities
voice calling, video conferencing, chat, and e-mail, and booking appointments
Hospital information systems, electronic health records, electronic medical records, clinical decision support systems, communication systems, laboratory information systems, and patient management app
Informational Healthcare apps
Textbooks, guidelines, medical literature, drug references
Clinical Software Applications / Medical applications
Disease diagnosis aids, and medical calculators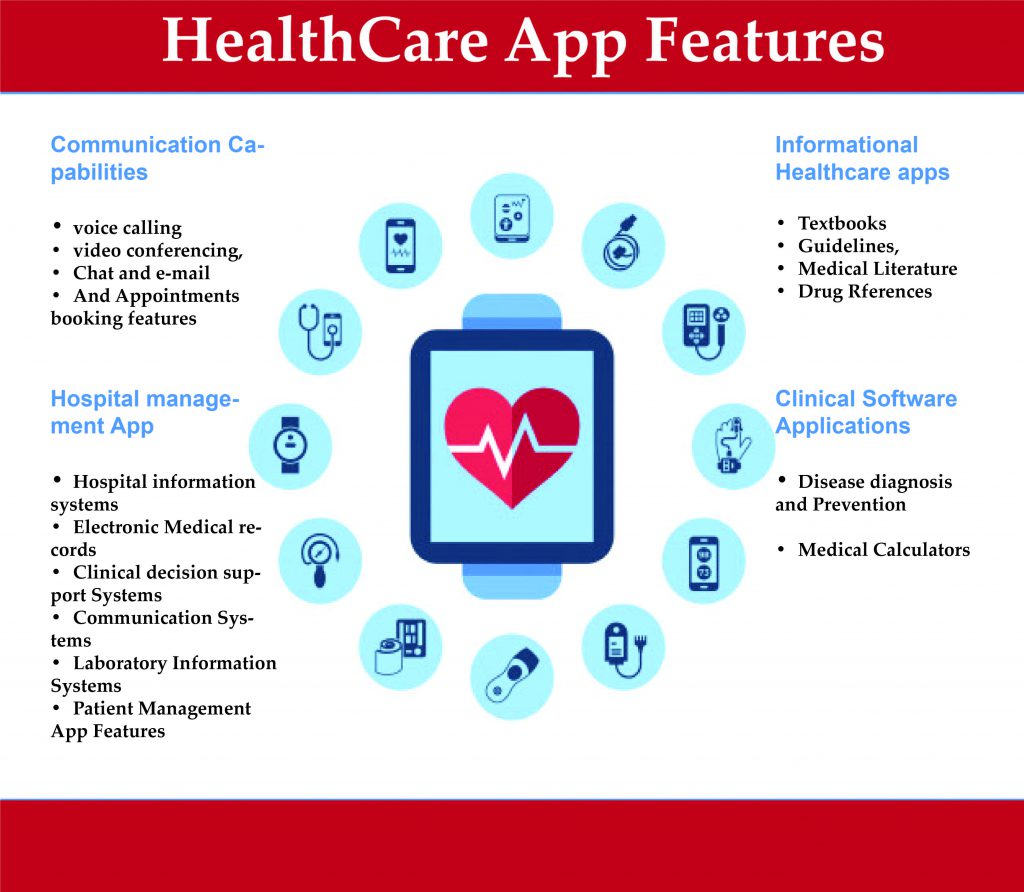 The best mobile healthcare care app can be developed by integrating the most useful features and improve the efficiency of your system. It also contributes to increasing the reputation of your hospital adding more to the revenue of the hospital.
How to Monetize Hospital Apps?
Healthcare mobile apps can range from fitness apps and healthcare tips mobile apps to hospital management and doctor on-demand apps. Hospital apps not only benefit patients, but it definitely opens a number of prospects for the hospital to earn and hospital app monetization. Hospitals can develop their mobile app and market it among the customers to increase the loyalty of their regular and potential users. A hospital app can be monetized using the following ways:
Freemium App
With this type of app, the patient receives the free lite version with some basic features. To get access to more advanced features, the user has to buy a paid app version. Or, you can also provide a subscription feature for your hospital mobile app. however, you need to provide your users with a really convincing point to make them pay for the additional features.
A Paid Subscription for Doctors
One of the most widely used monetization strategies for mobile apps is a paid subscription. A hospital can use this monetization strategy for hospital apps by listing doctors on the app with a paid subscription for them. The doctor thus has to buy a subscription to be seen in the app search by the users/patients.
Share in the Doctor's Fees
On the other hand, you can develop an app with a two-sided hospital marketplace where patients pay doctors using your app payment method. In such a healthcare app, you can choose a transaction fee as your monetization model. You can charge users transaction fees from 5% to 10% share from the doctors' fee for using in-app payments. The app work just as the car booking app monetization model work where a fraction of the fare is paid to the mobile app development company while the fixed share is paid to the car drivers.
Appointment booking App
You can simply use your app for letting patients book appointment via the hospital app and pay through the mobile app. using this monetization model can increase a hospital's revenue to a reasonable extent because these days, a lot of people find it convenient to book an appointment using a hospital app.
Run Advertisement
If you do the right marketing of your app and provides the user with the best functions and features in your hospital app, you can get a successful mobile app for the hospital. This way, you will be able to attract advertisers. Medicine Ads from pharmaceutical companies can appear in specially designated places that do not annoy users.
Final Words
Mobile app development in healthcare can benefit hospitals as the advancement in the healthcare sector is the demand of the future. So, overlooking this aspect by the hospitals might leave them behind in the race of advancement in the healthcare sector. And, to be the mainstream healthcare provider, the time has arrived when hospitals are required to have their mobile app. Using mobile apps for the hospital can significantly benefit their users and increase the hospital revenue to a considerable extent. To develop a mobile app for your hospital, you can initially develop an MVP for your hospital mobile app. Later on, when you experience the benefits of mobile devices in healthcare, you can have added features in your smart mobile hospitals.