Many business ideas are overlooked, ignored, or are left behind due to the risk of loss associated with them. Entrepreneurs or small investors are often discouraged from putting efforts into an idea which they fear for investment to be wasted. No doubt, it is painful to spend all of your hard-earned money into a project, and you suddenly come to know that the idea was rejected by the audience.
For dealing with such fears in Mobile app development and other software, the IT industry offers entrepreneurs the facility of MVP. A minimum viable product is not only built on a small budget but also reduces the risk of failure by leaving room for changes as per customers' feedback and reviews. Hence, the blog aims to explore what MVP is, its importance, and how it can benefit businesses to save time and cost and achieve success.
Minimum Viable Product (MVP)
Talking technically, a minimum viable product is the one that is created upon a concept that focuses on learning in new product development. the first version of an MVP allows a team to gather the maximum amount of authentic knowledge about users with the least efforts. This learning is acquired in the form of customers trying testers or actually purchasing your product.
The basic idea behind the formation of MVP is that a company makes an actual product that is capable of using by general users and be offered to customers so that their behavior can be observed with a new product or service.
The primary benefit of a minimum viable product is you can learn about your customers' behavior about your product without developing a final product. It gives a clear understanding of audience reaction that is, however, couldn't be acquired by asking them what their reaction will be. And, as soon as you know whether the product catches customers' attention or not, you adjust your effort and expense accordingly. For instance, if you have already spent on a web application development, and you want to consult a mobile app development company to get a mobile app, you can get a minimum viable product to check if users are showing interest in that or nor. If you learn that the product cannot succeed in the market, you will stop spending any further amount on the product.
Suggested Read: FAQs for Mobile App Development Process and Services
Who needs MVP Development?
MVP helps specifically startups and small business enterprises because they can be developed with limited resources and investment. MVP is particularly designed to help small businesses to achieve success in less cost and resources.
Why do Startups and Small Business Need an MVP?
Since a minimum viable product reduces the risk associated with beginning or introducing a new set up or a unique product, it is initially introduced to a limited user to test the performance of the product and then introduce it to the masses. It helps in identifying areas that need improvement.
Developing an MVP saves investors from major blunders and ensure a positive response from the users eventually. However, these days, the trends have been changing every day that does not allow you to finish your market research and start working on a product. You are rather required to carry out both of these tasks side by side.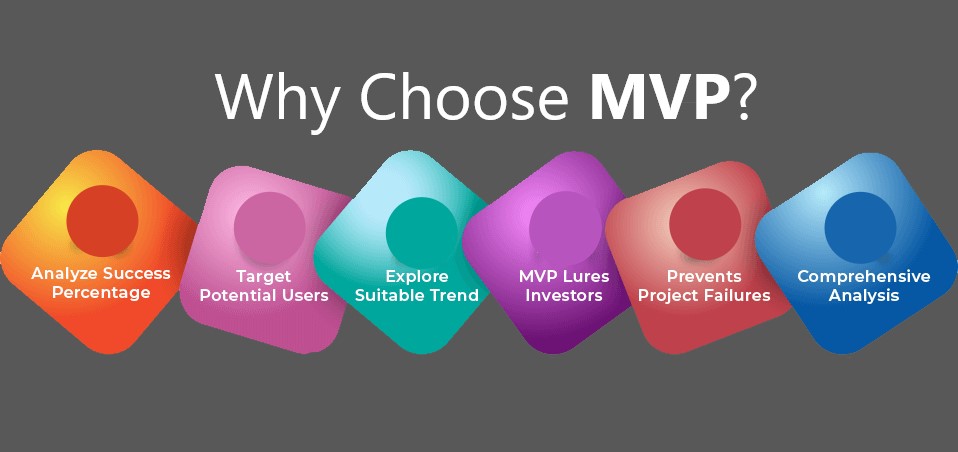 Companies need to know and use an MVP because:
It is a smart way to minimize implementation costs.
MVP helps them release the product into the market in minimum time.
It allows the company to assess the product and its demand in the market before releasing a complete product.
MVP not only reduces implementation cost but also avoid large capital losses and failure.
It also helps companies realize what works in the industry and whatnot.
It gives a chance to the product owners to understand users' behavior and preferences.
Moreover, it helps companies collect and improve the customer base.
How to Develop a Successful MVP for your Company?
To develop a minimum viable product for your company, consider following these steps.
Evaluate your business goals, market conditions, and industry trends in order to make a strong base for your product.
Work on knowing how your potential users will experience using your product. After creating a likable user experience for your potential audience, move on with developing your MVP.
After the development process, find out loopholes (if any) in your product.
Don't compromise on the unique features of your product while developing a minimum viable product. Then finalize the features release your MVP.
Suggestions for Companies
Although a minimum viable product is developed with minimum efforts, some companies overemphasize the idea and lack one of the core features in the product. This diminishes the essence of the product and leads it towards failure. Over filtering of features also eradicate the key functions from the application. So, it is important to understand that the inclusion of basic features doesn't mean the exclusion of important ones and release an unfinished product.
On the other hand, what else companies do to achieve a perfect output is the inclusion of every single feature in the MVP. Also, Overloaded features in a product drop down the focus from the core values of the product and make it a failure.
Afterward, you are free to add more features to your product. A wise approach, however, is to add each feature or a new version of your product that contributes to betterment. Hence, every new release should offer a better solution for your customers and solve their concerns faster.
In short, you should offer your users a viable and functional product that will allow them to complete the process and achieve their goals.
After the release of your MVP, move your focus to the marketing of your product. A suggestible read in this regard is How to Market Your App for Free?