We are moving very fast in our lives that we don't want to consume our energies in a repetitive and monotonous task on a regular basis. We rather look forward to automation and smart ways to complete our work. Given the tedious mix of personal and work life, it is quite justifiable. Grocery shopping is what almost all of us do. Despite its importance, it is a very time and energy-consuming task to do.
However, we have no other options than doing grocery so as to grab food and keep living. So, the problem rises here. Grocery is a need, but our packed routine does not allow us to freely shop and complete grocery on a regular basis. In the meanwhile, mobile app development companies come up with a smart solution! That is Grocery Mobile App Development Solution.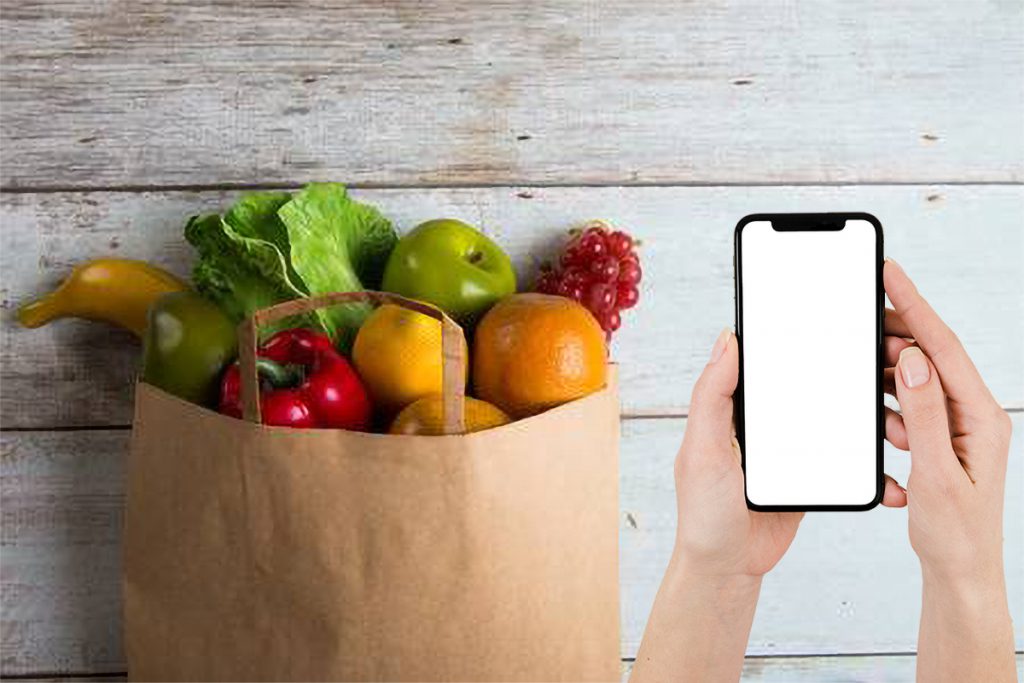 These days, entrepreneurs are taking part in grocery mobile app development, and the public has garnered a solution in the form of grocery mobile apps. With grocery shopping apps, people no longer need to go to a crowded grocery store, pick food items, and wait in line to pay and check out. All of this tiresome job can be eliminated with a grocery app. A few easy swipes and taps on your mobile, while you take rest in your bedroom, can deliver all your grocery right at your doorstep. A grocery mobile app without glitches can be a perfect solution to a wide-ranging smartphone users. Walmart grocery app is an example of grocery shopping app.
How Much Does It Cost to Develop a Grocery Delivery Mobile App?'
You might have this question in your mind while reading about the benefits of a grocery app. Well, the answer completely depends on the scale of your business and your requirements of your app. No matter what you look for in a grocery delivery app, you must be looking for the best grocery app. AppVerticals can serve as the best grocery app development company for you. Having a leading app developers team in the market, we surely can exceed your expectations for a grocery shopping app.
How Would a Mobile App Make Grocery Shopping Experience Awesome?
A grocery shopping app can eliminate a lot of burden from users' shoulders. With a grocery shopping app, users can shop while sitting at home, traveling in a car, or even at work. Grocery shopping is so easy with a mobile app. Users log in with their email or social media accounts, browse through the available items, search food, add to cart, and place an order. Moreover, they can track their order and reorder the products purchased through order history option.
An amazing experience from grocery delivery app encourages users to write reviews about the app. what else you can do to impress your customers with one of the best grocery outlet app is to include an extensive list of all the products, with regular current stock updates, multiple payment options, and have it delivered on time to their address.
let's understand in a bit detail about the features of the best grocery mobile app.
Features of a Result-Driven Grocery Mobile App Model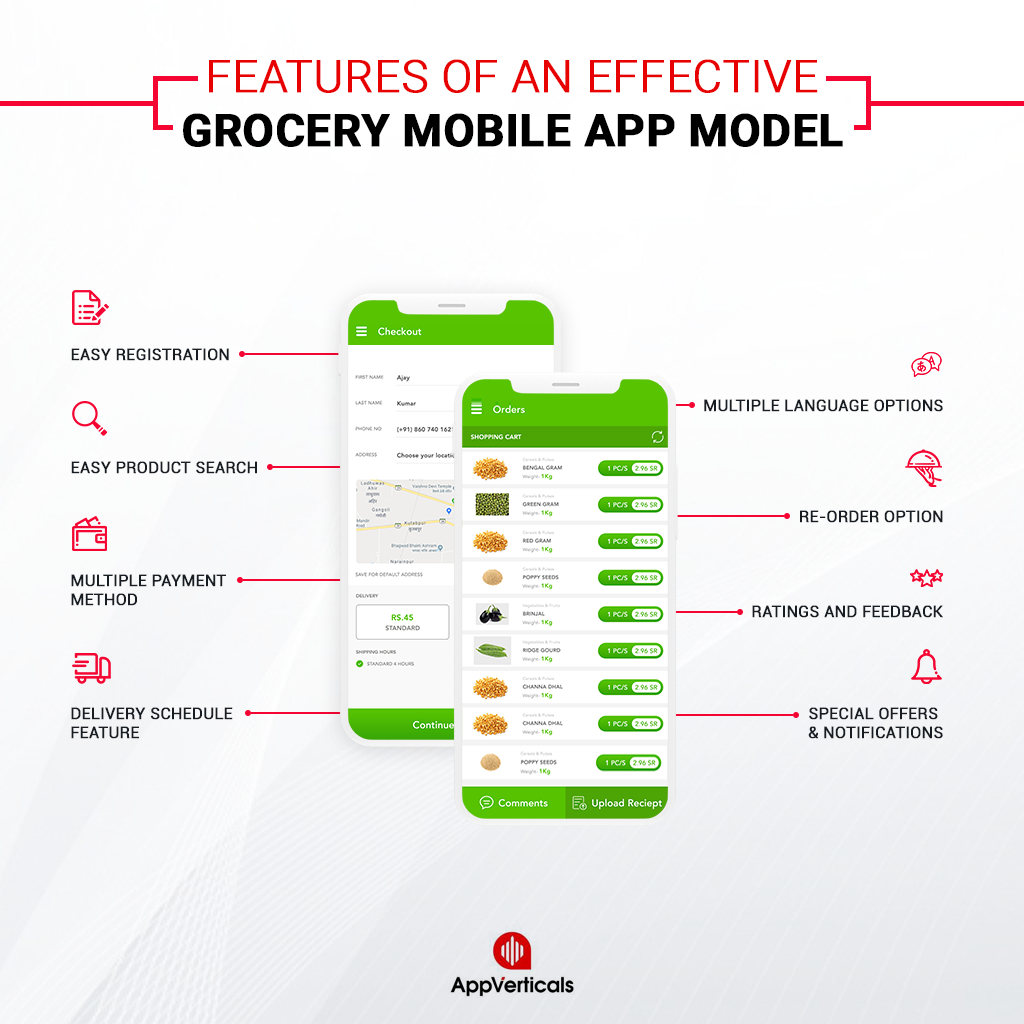 Easy registration
A good grocery store app enables users to register themselves on the app by entering their details or log-in using their e-mail or social media accounts. Registered accounts help users access their accounts from different devices as well.
Extensive Product list
After log into a grocery store app, users should see an extensive list of grocery items divided into subcategories. All the products must be properly labeled with a price tag and a precise description. The best app allows users to add products directly to the cart without the need to open the product details. This saves time when they don't want to open and read the product description.
Easy Product Search
A perfect grocery outlet app contains an easy search feature with some necessary filters like price, and category. The easy product search feature in a grocery shopping app helps users to find the most relevant results with a quick search.
Multiple Payment Method
The payment method is what often made people leave abandoned carts. Sometimes they couldn't use the available payment option and leave the cart. Enabling multiple payment options helps a wide range of users to use the online shopping mobile app. Multiple payment methods include credit and debit cards, digital wallets, and others.
Delivery Schedule feature
A grocery delivery app should include a delivery schedule feature in order to fulfill users' needs to the most. With a delivery schedule feature, users can set the delivery time as per their convenience before checking out.
Order Tracking
Grocery shopping app allows their users to track their orders when they place the order, right from the grocery store or storeroom to their home. This makes end-to-end order status easy. Users donot call and enquire about the order as they would be able to track it themselves.
Re-order Option
The Re-order option is a great feature for saving time and energy. Users don't need to add all the items again to the cart. All they need to do is to view their order history and order the same again. The app allows users to add or remove items as per their requirements.
Ratings and feedback
Customers should be able to rate the app through the rating option given in the app. The best grocery app also allows its users to provide their feedback regarding their shopping experience. These critical reviews help improve service.
Multiple Language Options
Multi-language feature caters to a wide community speaking different languages. A grocery mobile app with a multi-language feature offers its customers with the language of their choice. This requires Integrating different languages, depending on your business requirements.
Notifications
Shoppers receive notifications on offers and deals, order placement, confirmation, and other updates via push notifications, SMS, or email.
Special offers
The app users can find new deals and offers in the dedicated section on their grocery shopping app. the grocery shopping app can also be linked with a mobile grocery coupons app to increase sales and popularity among users.
Settings
A grocery delivery app should allow easy management of the user profile, payment details, addresses, notification settings, and others. Adding a settings option in a grocery shopping app can make it user-friendly and easy to use.
Related Reading Suggestions
---