In the age of social media, it's pretty hard to grasp attention. You might want to expand your brand, gain more customers, or simply become famous on social media. But it's not that easy, you will face a lot of competition and there will always be someone better than you. The human attention span is barely eight seconds, so what could you possibly do to engage people in such a short time span? The answer is simple, use pictures_ after all, "A picture is worth a thousand words". Because the competition is fierce, your pictures have to be really good. To make your pictures really stand out, you can use some amazing photo editing apps.
Thanks to impressive mobile devices and expert mobile app development companies, you can capture high-quality images on your phone and edit them directly on your device. Now even though smartphone cameras come powered with advanced features such as low-light performance, exposure, better focus, and enriched colors, the pictures are still not attractive enough. This is where mobile apps come into the picture.
There are thousands of photo editing apps in the app store and the google play store, unfortunately, 'not all of them are perfect'. So which apps are the best? Read on, we've got you covered.
Best Photo Editing Apps for iPhone and Android
#1 Adobe Photoshop Express
Adobe, the king of imaging software launched an Express version of its desktop counterpart 'adobe photoshop'. It isn't as good as the desktop version but it takes plenty of the 'Adobe Photoshop's' features and feeds them into the express mobile app version. It lets you carry out a variety of tasks like cropping photos, creating collages, fixing red-eye, healing acne and adjusting exposure. If you're looking forward to creating some memes, Photoshop Express comes with stickers and text overlays as well.
Photoshop express is definitely a 'professional' photography tool and it's very easy to use. All you have to do is upload a photo and get down to editing. Fix the brightness, adjust the contrast, add borders, and the best part about this app is its 'smart filters'.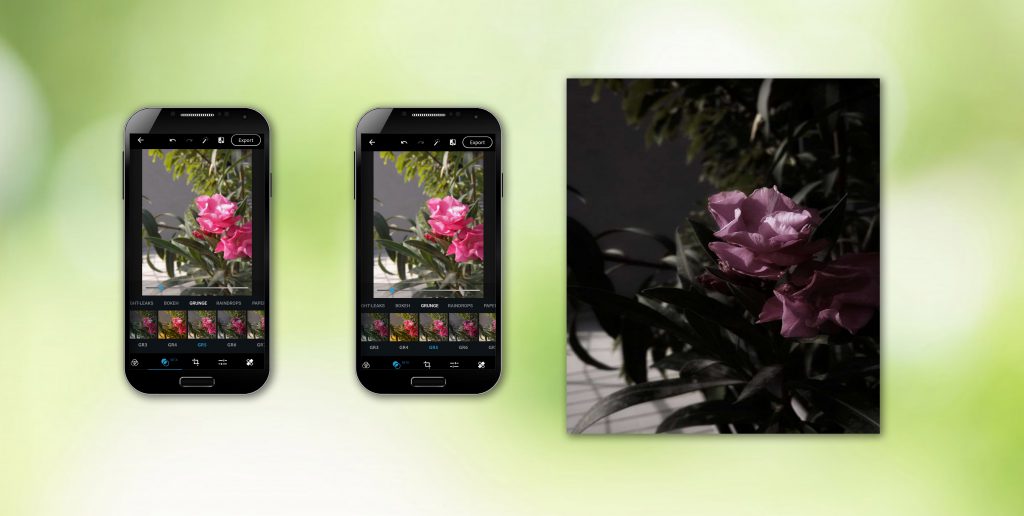 Instead of manually fixing the issues like exposure and temperature, smart filters automatically solve these problems for you. It's available on the Google Play Store, App Store, as well as the Microsoft Store.
#2 Snapseed
Google's Snapseed is a free photo editing app available on the Play Store and the App Store. It's packed with a wide range of features including pre-set filters, cropping, straightening, text overlay, frames, etc. What makes Snapseed stand out from the other apps is that you can edit filters and even create your own filters from scratch, and once you have edited your image, it saves your edit history so that you can go back and amend your photos at any point. Some additional features that Snapseed has are_ curves adjustment, precision masking to edit field depth, perspective, DNG support, grunge overlays, and double exposure; You can unleash maximum creativity. The sharpening features in most photo editors leave the photo looking grainy, but Snapseed gets the job done flawlessly.
A photographer's favorite feature would be its 'selective adjust' tool. This allows you to select a specific area of the image and make the adjustments like contrast or the brightness of that point. It also includes additional features like 'healing brush' and 'perspective crop' making it the best option if you don't want to download multiple apps for editing photos.
#3 Adobe Photoshop Lightroom CC
Many photographers consider Adobes Lightroom app an essential part of their tool kit and a gold standard app for digital photo management. Once again, you don't have to be tech savvy to use this app, anyone can use it. Adobe Lightroom CC is a full-featured photo editor and manager backed up with lovely presets, selective edits, light adjustment, integrated with RAW support, watermarking, and so much more.
Things get even more interesting with its AI auto-tag feature, this feature enables users to efficiently find the ideal pictures based on the content. Although, Lightroom isn't entirely free, in order to activate Adobe Sensei, selective editing, and web galleries, you will have to go for the Adobe's Creative Cloud plan ($10 per month). But even if you can't afford it, it's still worth using because you'll get a number of high-quality tools to make your pictures a splendid artwork.
#4 VSCO
VSCO stands for 'Visual Supply Co' and is pronounced 'Viz-co', is based around the idea of crafting your smartphone photos using film-like effects. It's sort of like Instagram (but better), it packs a camera, high-quality editing tools, and its own community. VSCO uses mesmerizing filters to make your photos look like they've been shot with a film camera. Unlike Instagram's heavy presets, the filters in VSCO are softer and add a classy touch to your photos. Just like all the other apps mentioned above, the capacity of the filters can be adjusted using a simple slider.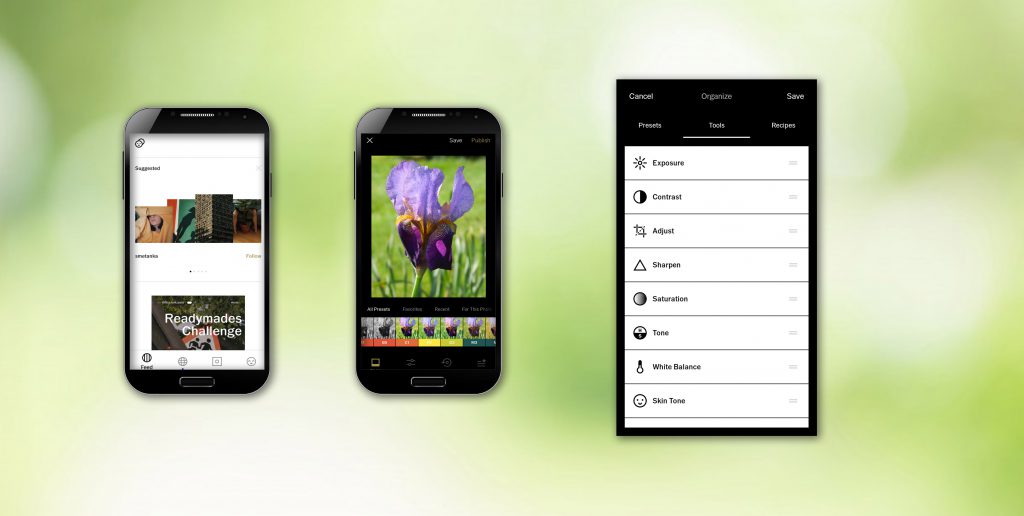 This app has both free and paid versions. In the free version, you get a selection of editorial features, like adjustments of exposure, contrast, cropping, highlights, shadows, skin tone, fade, grain, and saturation. If you move up to the paid option ($19.99 per year), you get access to borders and HSL, exclusive presets, photo contests, and video editing. Like Instagram, it's an image-based social media network, so after you're done editing your pictures you can share them on other social media channels as well as with VSCO's community.
#5 Foodie
Food lovers will be really happy with this number. If you're not a food lover, at one point or another you just can't resist taking a shot of that 'out of the world' ice-cream shake, or Italian Pizza. With Foodie, you can truly take your food pictures to the next level. To spice up the perfect memory of your perfect meals, foodie allows you to edit your pictures using 30 high-quality live filters, make the colors pop, and also take the perfect bird's eyes shot. If you like taking pictures of your food, this is an essential app for you.
#6 PICSART
If you lean more towards creativity and you'd rather remix your pictures instead of just adding filters and making small tweaks, PicsArt is definitely your go-to app. You can edit your photos using unlimited editing features such as_ crop, create cutouts, clone, add text, frame them, add background, borders, fine-tune, selective editing, color adjust, and much more. In addition to editing your picture, you can add free stickers, cutout and create your own stickers, and make memes for everyone to use or you can simply save them to your collection for remixing your other images.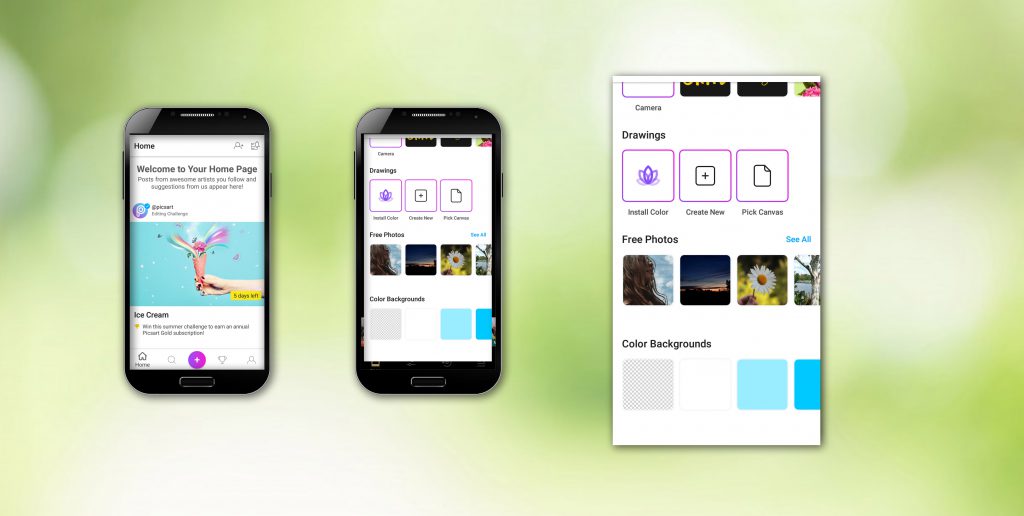 Another incredible feature that PicsArt has is the PicsArt drawing tools. With customizable brushes, layers, and professional drawing tools PicsArt is your all-time go-to sticker maker. Things get a whole lot interesting when you enter the PicsArt community, you can get inspired by the creative contests and photo challenges and learn new photo editing tricks every day.
#7 Prisma Photo Editor
This app was created by an independent Russian programmer about a year ago and became popular in a matter of days. It transforms your pictures into beautiful paintings. If you've used this type of app before, you might have been disappointed because the pictures always come out to be a bit lackluster and lame. But the Prisma Photo Editing app makes your pictures seem like they've been painted by Van Gogh or Picasso himself. Just like Instagram, Prisma also has its own online community, so once you're done with your masterpiece you can share your photo to your Prisma feed and other social media channels as well.
#8 Visage Lab
Before we tell you how amazing this app is, we want to point out that 'there is nothing wrong with having eye-bags, pimples, or not having perfectly white teeth. You are perfect the way you are. But still, if you're on the look for something that allows you to quickly re-touch your photos, then Visage can get the job the flawlessly. It allows you to adjust the skin shine, smooth out any bumps or wrinkles, apply eye makeup, whiten your teeth, red-eye removal, and much more. Visage only has one downside, the free version of this app shows a lot of advertisements and your edited photo will be branded with the company's watermark. You can remove these drawbacks by updating to the pro version of this app ($4.99 per month / $9.99 per year).
#9 Google Photos
Many mobile photographers find 'Google Photos' as an excellent mobile app that offers unlimited photo storage for images under 16 megapixels in size, smart automatic album creation, and basically, all the classic photo editing features that you could ever need. It has twelve quality filters, such as the 'deep blue' filter for making seas and skies pop out, and the pop-up controls for enhancing contrast and sharpness. In its Advanced Editing Suite, you can transform your photos with its intuitive photo editing tools and apply contextual filters, adjust lighting, and much more.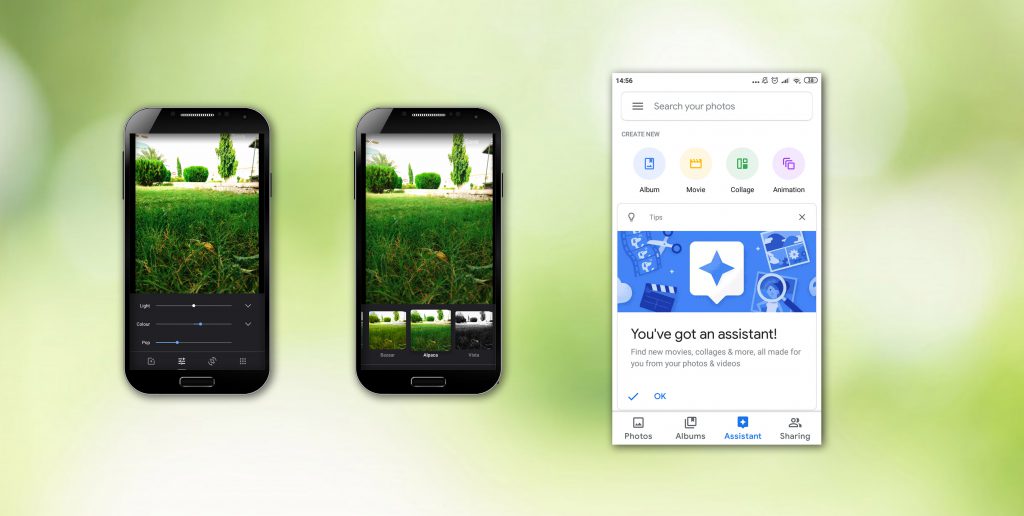 A feature that makes this app stand out from the rest is its 'sharing suggestions' feature which allows you to 'easily' share photos among your friends and family.
#10 Flickr
Flickr is an influential platform that connects professional photographers from all over the world. You can not only update and share your pictures, but you can also edit them to make them look magical. Even though it doesn't offer free terabyte of storage, you can still add up to a thousand images no matter what the size. It's packed with high-quality auto-enhance tools and also the classic editing features like_ cropping, brightness, contrast adjustment, white balance. The Flickr app comes with its own camera that allows you to take amazing shots using its enhancement filters.
Wrapping Up
There are thousands of amazing photo editing apps out there, and we managed to round up the top ten photo editing apps for 2019. In order to find the app that suits your needs, it would be better if you experiment and play around with apps that we've mentioned above, once you figure out the app that works best with your style, you can stick with that one. You can also find the best lifetime deals from authentic websites that offer plugins and graphics to tweak up your photographs. Turn your bland and lackluster photos into magical artwork that will definitely turn some heads. Start using them today and start working towards achieving the social media goals you've always dreamed of. If you'd like to share your social media experience with us or if you'd like to add something, feel free to leave a comment below; we would love to hear from you.