Let's put our focus to an important factors that contributes to selling your product in the app store. However, some mobile app development companies do not completely understand this. But, this is an important factor that contributes to selling your product. When a user wants to download an app and get stuck between two or more similar applications, what is that make them select yours? It is how you present your app. So, you should clearly define why people should choose your app before even start working on your app.
The app description is an app store optimization for your product and enhances your product downloading and success. The app explanation comprises of three important components, namely the title, description, and the screenshots.
Components of an App's Description On the App Store
Writing the description for an app is definitely a creative and flexible process that can be changed with the different app nature. However, there are some terrible ways of writing it too. So, to avoid the terrible ways of a description process, this blog intends to explain the correct way of writing an explanation for any app on the app store. Before moving to the detailed explanation of writing app description, let's understand some basic recommendations for creating an app definition.
Basic recommendations for writing an app definition.
Write in a concise and clear manner while explaining your basic app function.
Use keywords in the app title and the description.
Connect directly to the user via second-person narrative. (use "you").
Do not include technical details and ambiguity in your app description.
Now, move to the next part of our blog that includes a deeper understating of how to write an app title and description.
App Title
The title of your app gives the first impression about your app. so, if you want your app to appear on the search results via the google play and apple app store, you need to choose the right name.
The title should significantly represent a few most important features of the app. Also, do not exceed your title length over 100 characters.
The Importance of your App Title for Future Users
When the user search for an app and they cannot relate to the names of the appeared apps, they might not bother to download them. Seeing that, you must help your future users identify your app like the one they look for to download.
How is an app name helpful for the users?
The app purpose needs to be blended into its name. This helps clear the functionality of your app to users. Also, the app visibility is improved by integrating its primary features into its name. some popular examples include WhatsApp, Facebook, and Snapchat. Moreover, some primary purpose of your app should
Your app's purpose should nicely be concise into a keyword that most people use to search for a particular solution on the Google Play or Apple App Store. For instance, if you search for a custom Mobile app development company in Dallas on Google, you will find Appverticals. This occurs because our name boils down the purpose.
How to find keywords
To find keywords, think what could be most relatable, then use Google Trends and Google AdWords Keyword Planner.
You are not necessarily required to fill your app title with the keywords. But, while making a decision of the title, be reminded that the title serves as a primary field for indexing by Apple whereas the Google play store find keywords both in the app's name and description.
App Description
While writing the description for the app, a mobile app development company needs to keep a few things in mind. They are:
The initial 3 sentences of your app description should be limited to describe the main feature of your app. these sentences should not be exceeding than a total of 255 characters.
Show the user your achievements. If your app has won any special award or if some popular celebrities have talked about your app, show this to your users.
Also, a mobile app development company must ensure that the body paragraph of the description must be relatable and informative.
Some primary features should be mentioned in pointers.
In the end, tell the users "what's new" and unique in your app. Tell them about the last update and added features.
How to write an app description
A mobile app development company should take care of the following rules while writing the description for an app.
Use simple sentences to grab the attention of the prospective users of your app. The more your app is easy to understand, the more people download it.
Do not unnecessarily include words that have no purpose in describing your app. avoid using many fancy and difficult words.
Give the best to the people so that after downloading your app, they must not uninstall it. This blog might help you develop an optimally usable app.
Mention one of the most important use case of your app instead of including all the fancy features of your app. for instance, a mobile app development company can do this by including these lines. "The main feature of our app includes "photo editing. Other functions include camera filters and photo sharing."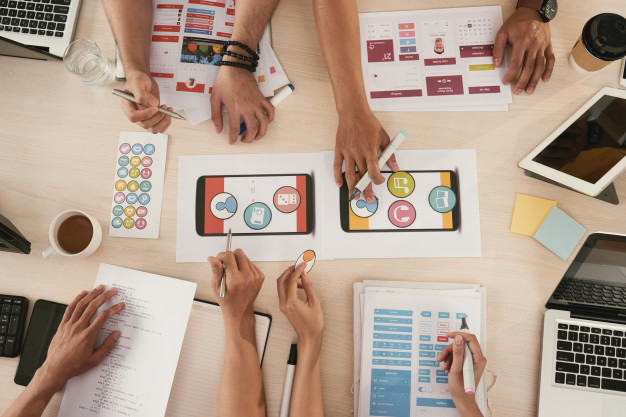 What does an app description include?
An app description includes five components, namely; 255 characters, Review and awards, 2-3 paragraphs of the body text, A list of features, and What's new? Among which, the most important is the first 255 characters that appear in the App Store listing. Also, users can read this description without the need for tapping on 'more".
This text needs to enough catchy and engaging that users do not pass by. So, use the first 255 characters to tell them the unique value offer they can get you're your app.
How to make the most of the first 255 characters?
Begin with a precise and appealing phrase that catches the reader attention in the first place. These lines should include the reason why people need your app and how it can be helpful for them. You can do this by proposing a problem and then providing the solution through your app.
Screenshot Description
The screenshot might be the final decision maker for any user either to download your app or not. Therefore, the first three screenshots should clearly mention the basic (or unique) features of your app. Adding a description with the screenshot can be helpful too. Use small and actionable words. Additionally, some screenshots do not need any description as they self-explain them. Take a look at Picsart to understand better what I said.