COVID 19 has impacted the world in numerous ways, and the retail industry is one of the major areas that got affected hugely. The fear of pandemic and "stay-at-home" orders constrained people to their house, and they massively switched to online shopping. The occurrence of epidemic gave an immense raise to the eCommerce retail industry. However, on the one hand, it gave upsurge to the online shopping in our everyday life, on the other hand, it was challenging for the eCommerce retail industry to combat the ever-increasing online shopping demands from the customers.
The Role of Mobile Devices in Ecommerce
Nearly 95% of the U.S. population is affected by stay-at-home orders. COVID-19 will probably bring an enduring change in retailing and ecommerce, and its initial impact on our everyday shopping is creating challenges to online sellers and service providers. The following chart from COVID-19 Commerce Insight, an Emarsys initiative in cooperation with GoodData, indicates that retail ecommerce revenue growth is increasing in the last fourteen days.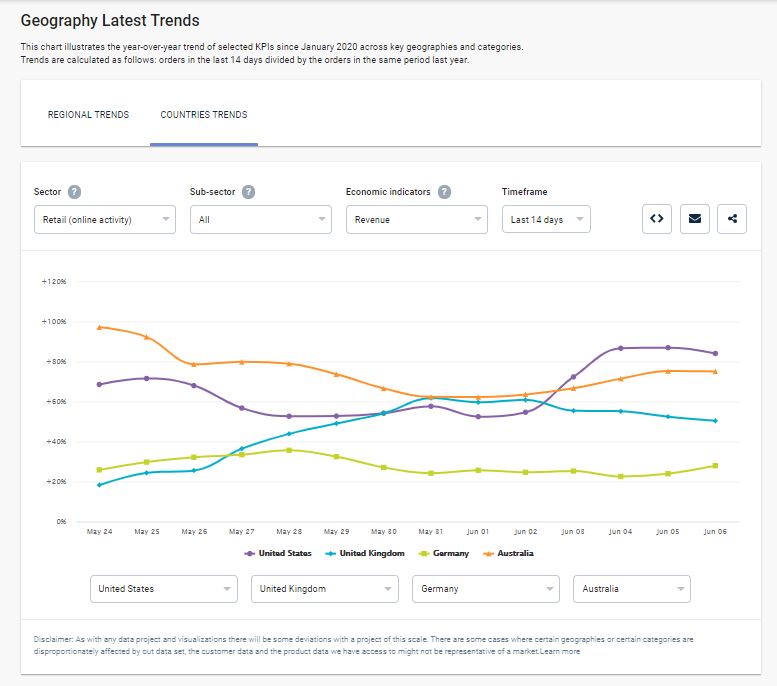 The most popular device for online shopping is mobile devices on a large scale. According to the PYMNTS' 2020 Remote Payments Study, 72% of consumers are using mobile devices to shop in stores. Ecommerce is changing the landscape of everyday shopping during COVID as online retailers, supply chains, order management, and fulfillment systems are all being challenged by an ever-increasing order demands and revenue growth going high. And most of all, retailers and online service providers are putting more energy into improving customer experiences online.
Since a high ratio of online shoppers is using mobile devices for placing orders from eCommerce stores, its vital for retailers and eCommerce website developers to optimize their websites for mobile. Moreover, mobile apps can make a huge difference in a situation where people look for a long-term solution for their grocery and household delivery needs; mobile app development companies must ensure best practices to deliver the utmost customer and user experience.
Online Shopping for Grocery and Edible Items
A pandemic limiting people to constrain their lives inside their boundary walls should come as an opportunity for online grocery services and retailers, but they had to struggle to meet unprecedented demand from the customers.
It was observed that people left store shelves empty. It seemed like people thought they wouldn't be getting enough food supply and toilet papers, so they panicked while shopping. After that, many online shoppers faced pounding delays in getting their food delivery.
People face challenges in getting their delivery slots even when they are regular buyers of a store. This suggests that online delivery demands got so high that online retailers are finding it difficult to meet a surprising grocery delivery orders. Grocery delivery mobile app development is a need of time that should fill the gap and help people fulfill their daily requirements of household and products of regular use.
Online Retailers and Surge in Orders
If we talk about the USA, grocery shopping was moving online at an increasing yet slow-paced. A total of 3% food market was online as per the last year's report by Deutsche Bank.
After the rampant spread of COVID-19, when millions of Americans stayed home, delivery orders amplified. At the beginning of march and even before people, popular grocery stores like Walmart, Amazon, and Instacart skipped at least 2/3rd of their grocery delivery sale and deals as compared to the previous year deals. Instacart partners with more than 25,000 stores in North America. It said orders in recent weeks increased by 150%.
According to research by Earnest, the following changes occurred in the ecommerce industry during the spread of the pandemic in the USA.
Since people stocked up on supplies, general Commodities, and Grocery sales growth accelerated.
Restaurant sales growth slowed down into the most recent week, but grocery and food delivery growth rates went up and stayed robust in the previous weeks.
Apparel and Department Stores have observed decline to over 10% year-over-year in previous weeks.
The travel industry continued to get declined and remained under 25% in the week ending March 11th as compared to the last year.
Restrictions may begin to ease in different regions of the world, but there is a strong possibility that increased online spending habits would stay among people. It seems like that the growing scale of online shopping has amplified with the occurrence of COVID-19, and people have found and experienced online shopping more than ever. There is a significant possibility that people become dependent on online grocery deliveries and the eCommerce landscape change while this pandemic goes away.
Final Words
The situation comes as an opportunity for online sellers, and they can increase their seller-base by providing unparalleled service and user experience. If people find the delivery services worth shopping, they would definitely continue buying from an online grocery delivery service providers even after the pandemic ends.
Apart from grocery and food items, people are shopping less, but when they are shopping, they prefer to use online service, as they are restricted to their homes to avoid the spread of the virus. E-commerce service providers, website developers, and mobile app development companies should take the right action as per the need of the moment. People need to get the products of their daily needs at their doorsteps. If such products are developed and become available to the users in an appropriate way with maximum customer satisfaction, the eCommerce can modify the previous setting of the retail industry into an improved online shopping fields.