"Online" has become the new normal, and organizations are moving online more than ever. As we step towards a more digital world, it is becoming extremely crucial to provide users a seamless online experience while shopping or surfing online. The use of a website for businesses has become a must, and storekeepers are driving to set up an eCommerce store. So, the online floats on the top in the wave of upcoming decades.
Businesses offer their users a website or a mobile app to shop at the comfort of their homes. But then don't forget to make sure that comfort doesn't turn into the frustration of slow loading, inability to find something, a messy interface, etc. This blog, thus, instills the impact of a good UX on driving better business. Business cannot grow with a functional and usable but visually unappealing and ugly website or a mobile app.
Therefore, in order to succeed, businesses need to anticipate customer needs, eliminate obstacles, and make the user experience smooth. Today, successful companies are using design as a way to differentiate their products, services, and customer experiences from others.
Why is UX important?
Because UX is important, it is proved from different studies. Users associate quality with the interface. They assess a website's credibility by its design and interaction. 75% of customers infer the credibility of a company based on their website's UX.
Another study says that 46.2% of participants determine the credibility of ecommerce sites specifically based on the visual elements of a website, including layout, color schemes, and font size.
Also, 70% of customers say they have abandoned their shopping carts because of bad user experience. So, providing a bad user experience actually helps your competitors.
88% of online shoppers say they would not return to a website after having a bad interface experience. Also, 94% of first impressions for a website are design-related.
According to a study, an excellent user interface can enhance a website's conversion rate by 200%. A better overall UX design can even raise it up to 400%.
What makes a great User Experience?
You see, how user experience is making a difference in businesses today. However, a prevailing attitude of "build it fast, and fix it later can be detrimental to a business as it may hider growth. There are four major areas of design and development that need to be improved to improve the user experience of a product.
Usability
Usability is the most crucial element of user experience. Usability can simply be improved by improving discoverability, navigation, and design standards of a product for users.
Improved navigation quickly makes it clear for the user that what are the possible actions in the UI. The information architecture and site navigation should expose all available options in an application in a way that makes sense to users.
Users want to get things done quickly and easily without facing any glitches. They should not need to repeatedly think about how to achieve a certain objective while using a technical product.
Another important element is UI interaction. Cleaner design and aesthetics add to Perceived Usability. Websites with visually simple, cleaner designs perform better, so one of the basic goals of improved user experience includes the improvement of UI design.
Consistency
The design and interface of a product should offer consistency. A jumble of different style of UIs not only make a product look awful but creates difficulty for users. It that the use of different colors, layout, and fonts from page to page can be confusing for the users. Consistency is about reducing elements and eliminating confusion.
A consistent interface follows the rules; for instance, it includes the same interaction to perform a certain task through a product. If a product uses consistent elements for UI, it becomes easier for the user to navigate over the product and learn how something works. Visual and functional consistency are both important. Moreover, consistency also saves time and money on each product design. Because consistency means using similar elements to achieve a connection in pages and adding similar functions and behaviors throughout a product, it takes less time to design in the interface.
Workflow and Efficiency
To increase business productivity, it is vital to improve navigation design and boost the workflow and speed it takes to go around the UI. Not only a software needs to consistent to improve workflow, but each design, labels, and product tags should have a consistent design flow. Improving on this can benefit the workflow, and offers users with faster access to visit more often.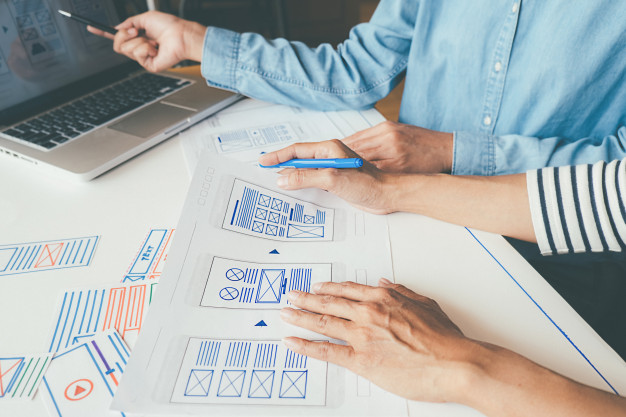 Brand perception
Another element of UX is creating brand perception for the product. Brand perception covers quality, trust, and confidence in a platform. Customer trust and confidence are directly connected to the overall user experience. So, a crucial part of a great UX design is to give products a modern and updated look because users often validate a product's trustworthiness through an up-to-date design and experience. Similarly, people are less likely to sign up for a website or other services that seem outdated. It has an impact on users' psyche and without even knowing why they will incline towards a service that offers better looks.
UX designers need to keep track of the product's UX remains updated and on par with those of leading enterprises and applications. The design in terms of performance, features, and functionalities needs to be equivalent with other up-to-date applications. And if the product doesn't create a brand perception, it needs to improve brand perception through the product design.
Final Thoughts
Websites and other online representations and marketplaces need to serve excellent functionality, usability, and integration. But with an unappealing interface and distracted user experience, a product can lead towards failure.
Not only that, the market is abundant with lots of alternatives and other options, but even if your product is one of its kind, poor design, and unappealing user experience drive customers away and decrease a business's online value. Hence mobile and web application development company needs to ensure that user experience is never compromised while creating a platform for business as it plays a significant role in customer satisfaction and retention.