I didn't fall for this satisfying yet addictive gaming app till last year. It was another evening after a tiring day at work and I was waiting for the subway. Look to my left and I see a woman crushing away candy, I look to my right, and there's this teenager playing the same game. I'm not much of a gaming person, but, what harm could it possibly do? I was only going to install the app to kill some time.
At first, it was only used to kill the waiting time, but then it became a habit, a deadly habit. By the end of the month, I ended up spending around $200 on Candy Crush. Look on the bright side though, it may have caused me harm, but the 'app' itself did a pretty good job at making money. In fact, a report by 'Sensor Tower' states that in 2018, the collective Candy Crush gaming apps generated around $1.5 billion in revenue. So why wouldn't you want to develop an app like Candy Crush?
In this blog post, I will highlight how you can develop an amazing mobile app like Candy Crush. Follow along.
Developing an App Like Candy Crush
One of the most popular categories in the gaming app domain is match-3 puzzle games. The rules are pretty simple; users simply have to earn points by making combinations of three or more puzzle pieces in a line. For example, in Candy Crush, users have to join three or more candies in a row to eliminate them and gain as many points as possible. Players are given a limited number of moves and lives, this means that they need to make quick and wise decisions without using up too many of their moves and their lives. In Candy Crush you get 5 lives, if you lose a life, it refills again after 30 minutes. So if you really want to finish that level you failed, you can always purchase some extra lives 'on the spot' and also get some game boosters (such as jellyfish, striped, and wrapped candy).

I personally fell in love with the coconut wheel and the color bomb booster, and that my friends is where I spent most of my money. It may sound like an evil trick designed by the mobile application development company to entice the users into making more purchases, but hey, it works.
So if you really want to develop an app like Candy Crush, follow the below-mentioned tips.
#1 Decide Your Target Audience and Game Theme
The most important step that you should never miss out is 'doing research on your target audience'. If you're targeting the age group 7-10, your gaming app should have the look and feel to satisfy and engage children. It could be an educational gaming app or anything else that would interest that age group. If you create an app-based entirely on mind games or something related to chess and you end up targeting the age group 7-10, your app will rarely get any app downloads. Similarly, if you create an app related to knights and battles and up targeting users aged 30-40, you won't get any success there either.
So if you want to make your gaming app a massive success, you'll have to start by deciding your target audience and then focus on creating a relevant theme.
#2 Choose the Right Game Engine
A game engine is a software that provides game developers a set of necessary tools and features to efficiently create a gaming app. They help add quality as well as efficiency. There are many game engine options in the market and each of them has their own set of strengths and weaknesses, this makes the selection process very confusing. You will have to do some research and find the right game engine that will suit your needs.
Furthermore, as compared to native development means, game engines help simplify the development process and they also provide an additional list of visuals and side effects.
#3 Engaging Gaming App Features Are Necessary
If you want to make sure that your visitors come back and interact with your website more than once then you will have to make sure that you give them more options and features to enhance their gaming experience. If every time a user plays your game and they come across the same features, then there is no doubt that they will get bored pretty quickly. And if they get bored with your game then there is a very slim chance that they will ever play your game again.
So what exactly can you do to improve user engagement?
Candy Crush keeps its users engaged by raising the complexity of every new level and giving prize boosters. My personal favorite is the 'Beanstalk' feature, it lets you collect as many boosters as you can as long as you don't pick the pink candy monster.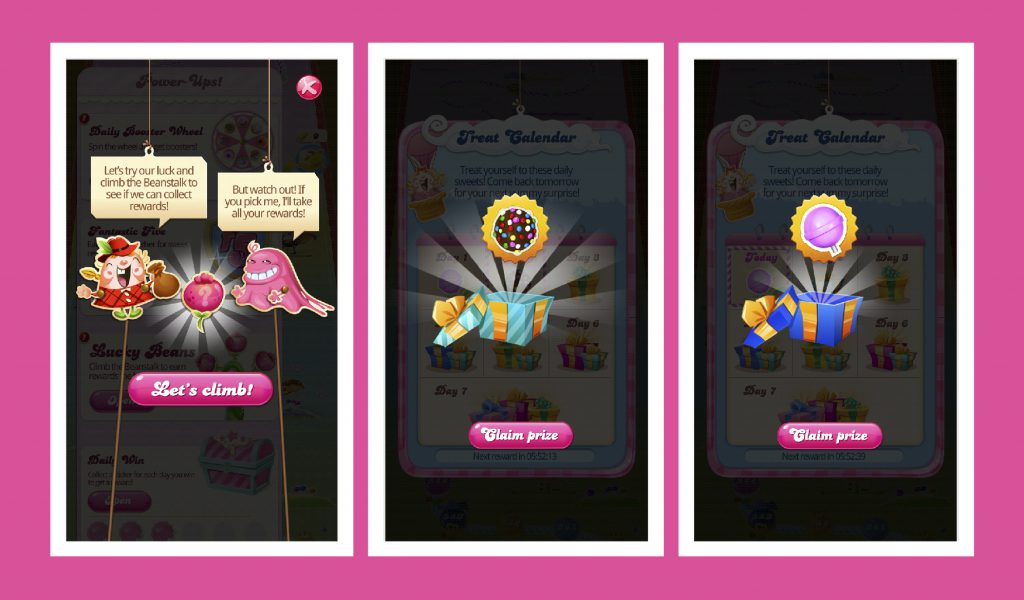 This is how Candy Crush makes sure that things stay interesting and so can you. You can add different levels with varying difficulty, new bonuses, and other such features to grasp the attention of your players.
#4 Get Creative with Your Monetization Strategy
Majority of the match-3 gaming apps are free to use. However, if you've invested so much time and money into developing your gaming app, you would obviously want to make some money from it. It is essential that you understand that just because you've rolled out your app as a free app, it doesn't necessarily mean that you won't be able to make money out of it.
You will have to do some research and figure out a monetization strategy that suits your gaming app. If you take the example of Candy Crush, Candy Crush provides its players with paid lives, extra moves, and tasty boosters. If your players are really into your game at one point or another they would definitely make a purchase or two.
#5 Sound Effects and Graphics
It's a well-known fact that if you want your game to be a massive success, it must have an amazing design, animations, and mesmerizing sound effects. If you're wondering why it's important, the answer is simple, you need to make your gaming app as interactive and as engaging as you can. While playing Candy Crush, I absolutely love the crushing sound that the candies make when you are pairing them up; Especially the satisfying candy crushing finale after you have finished a level.
You will have to make sure that every movement of a user is followed by a sound or visual effect, you can do this with the help of animations and some other amazing tools.
#6 Social Integration is a Plus Point
How many of your friends don't use Facebook? If any of them don't use Facebook, you might find them on Instagram, Twitter, or even Tik-Tok. The point is that almost everyone uses social media, and that's where you will find the majority of your customers. Integrating your mobile app with social networks will increase the visibility of your product and you will drive a much greater audience.
Furthermore, players are looking for ways to compete with real rivals, including their friends on Facebook. For example, I absolutely love Candy Crush for allowing users to share their lives and boosters with other players. So when you're developing your app don't forget to integrate it with social media networks.
#7 Balance of the Game difficulty
This particular tip might sound somewhat overused, but, it's something important for all game developers. When you decide on the complexity of the levels, put yourself in your player's shoes. Would you be interested in playing a game that doesn't pose any challenges and you easily win every level with flying colors? Or for how long would you play a game that doesn't let you win a level until you have lost multiple levels and used up all your ammunitions? Not for very long I'm sure.
Candy crush starts off with super easy levels that you can pass without any difficulty, but as you continue to move to new levels they keep getting complex and you also come across 'hard' and 'nightmarishly hard levels'. It's all about balancing the difficulty of your levels.
#8 Insights and Analytics Are Important
Wouldn't you like to track the behavior of your users? By integrating analytics tools to your app, you will be able to tune into your user's impressions and understand how they interact with your game and what feature of your app motivates them to convert. You will also be able to understand the key reasons for players leaving your mobile app. You can use this information to optimize your app and improve user engagement and user retention.
Wrapping Up:
The mobile application development process isn't going to be a piece of cake, but, with the help of the above-mentioned tips, you have an opportunity to develop an app like the famous Candy Crush mobile app. Expert mobile app developers can help you develop an amazing match-3 puzzle game that will engage visitors and assure that they become potential players. If you've been thinking of getting your mobile gaming app developed from a company, you can contact us and we will provide you a dedicated team of developers that will work towards achieving your goal.