People who don't prefer to go out in different weathers have got the solution to enjoy ready-made food while lying in their beds. By providing these many benefits to users, food delivery apps have been under the limelight for investors and merchants all over the world. Popular food delivery apps and restaurants have partnered to deliver solutions for the demands of the upcoming generation.
Food delivery service users are wide-ranging, regardless of their gender, age, income, and location. App users enjoy food delivery, mostly available free and 24/7. A delivery app is typically developed for customers and restaurants. The app developed for customer support the customer-side food ordering mobile app. the below-mentioned paragraphs elucidate the requirements or features of both of these apps.
Food Delivery App for Customers

Registration
The initial step for suing a food delivery app is registration. The user registers and sign-in via using their e-mail and contact number. Current trends enable users to sign-in from popular social media platforms like Facebook or Instagram login.

Search Food/Restaurant
A basic feature of a food delivery app is a search bar with useful filters. Customers should be able to search both by food and restaurant names via the feature. User-friendly filters in a search bar further enhance the results.

Order Now/Schedule
After the selection of certain restaurants and food, customers can either request delivery on-time or may schedule it for later. This feature helps users to plan for events and celebrations in an organized way.

Online Payment
A food delivery mobile app is integrated with multi-payment options, including credit or debit cards, and other digital wallets. This enables a wide-ranging audience to use the service through payment options, and customers stay satisfied by paying online securely.

Track Delivery
A modern need and user-oriented feature of the food delivery app is a delivery tracking feature. After placing an order from nearby restaurants, customers can track the delivery-man current location in real-time via the app.

Rate & Review
Users should be able to review and rate a food delivery app as per their experience. This helps the company to critically improve their service. Moreover, a better rating is a natural promotion for potential customers and new users.
Food Delivery App for Restaurants

Registration for Restaurant
Restaurant management first Register into the app platform with the required details. Then they are allowed to create a detailed restaurant profile with a title, tagline, images, menu, restaurant address, and other information.

Menu Management
A basic feature of the restaurant-side delivery app is menu management. They can add, remove, or modify food items, descriptions and images from the menu.

Availability Toggle
The restaurant panel of a delivery app features an availability toggle. Restaurants can mark their availability and unavailability to serve using this feature.

Accept/Reject Request
After getting the food request from the food delivery app users, restaurants can either accept or reject food delivery requests with the accept or reject feature. The customer gets notified instantly about their order.

Social Media Share
Restaurants can engage users and boost sales by sharing the latest offers, food, and other exciting updates on social media platforms through the social media sharing feature.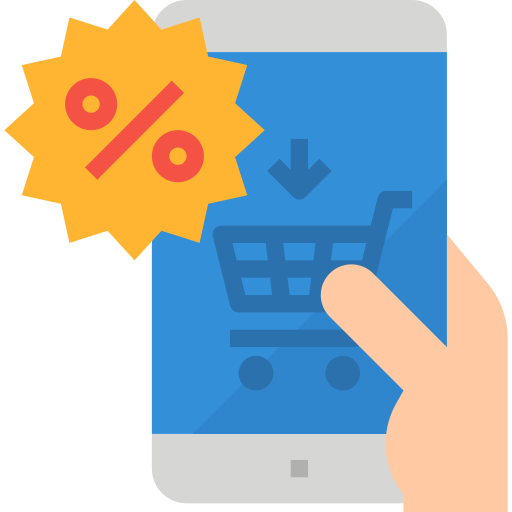 Manage Discounts and Offers
Discount and promotional offers can be updated in this section. The discount offer is updated on the restaurant menu and can be send via notifications to the customer app to boost sales and users with special discounts.
Added Features in a Food Delivery App for an Ultimate User-friendly Experience
As an added feature of a food delivery app, the app can highlight some of the most demanding food and needs of customers. For instance, food lovers usually look for "fast food delivery, Chinese food delivery, Thai Food delivery, and other queries like these. An app featuring popular searches at the top panel of the app can increase the chances of profits by presenting users' requirements at an instant.
The point here is to catch users' needs and make an application that exactly fits into that. Moreover, the app can include small icons at the top panel mentioning the high-volume queries like "American food near me," "fast food near me," "cheap eats near me," "Thai food delivery near me," "local restaurants near me." The image below clarifies the idea. By tapping on the icon, users will be offered with the best food nearby, among the selected category.
Moreover, with the changing demands of customers, instant icons should be changeable. If the trend is bending towards Thai food, Chinese food delivery can be replaced with the "Thai food delivery nearby" option. Also, the users should be able to mark their favorite restaurant or food to reorder from their favorite place.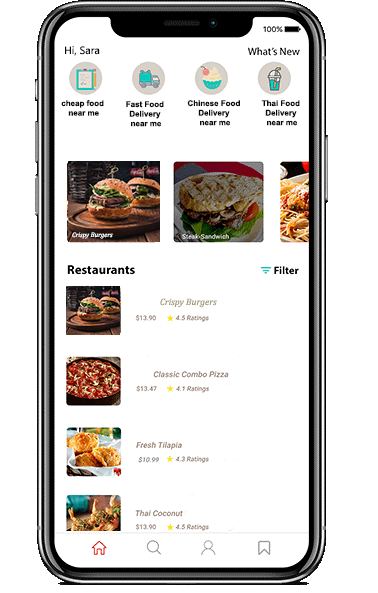 Why Should You Invest in A Food Delivery App Development?
Food Delivery mobile app development is one of those business ideas that cannot be failed if developed and launched flawlessly. The on-demand food delivery app industry has grown larger and wider than ever before. The audience for food delivery apps is widespread; from youngsters to the older generation, everyone is choosing to order their food.
Since smartphones are generally available to a wide audience, and the internet is available at a cheaper rate, the food delivery mobile app development is expected to get even bigger.
Since a great number of people are choosing delivery services for lunch, dinner, breakfast and snacks to enjoy during their busy schedules. Therefore, the demand for food delivery apps is at its peak. So, the revenue margin is high. By serving users' demand, food delivery apps are earning in billions every year.
How to Develop a Food Delivery App?
The process of food delivery App Development requires dedicated efforts. Everything from idea to launch and promotion needs to be done flawlessly. It's always wise to look for market demand. Providing a genuine solution for users' needs can make your product a real success. Initial research for the idea and product development is crucial. The further steps rely significantly on the acquired results. A food delivery app ideally requires the following process to develop into a high-demand product. The development process consists of 4 main phases.
Ideation
The development team and the client gather to discuss the critical requirements for the mobile app development process, including app features, technology, and other aspects that fit best to the business idea.The team listens to the client requirements and refine the idea to bring exactly what they want. The team then brainstorm the best way and asks for the client feedback.
Design and Development
At Appverticals, we follow the agile process to design and develop a highly functional and result-driven food delivery app for mobile and web platforms.
Rigorous Testing
After the development process, the app is run through a course of testing and quality assurance. The process of strategic testing is done at all stages for highly functional, stable, and bug-free performance of the final product.
Smooth App Launch
After the design & performance tests, we assist our customers in publishing the mobile app on leading app stores. The food-delivery app development service standards need to be industry-leading. So, we provide round-the-clock support.
AppVerticals is a leading app development company in Dallas. We have garnered all that requires to create a top-notch food delivery mobile app. We are devoted to designing, building, testing, and developing excellent applications for mobile, including iOS and Android, and leading web platforms. In order to acquire an ultimate app solution with boards for both customers and restaurants, the delivery application is integrated with a robust dashboard to evaluate and control the whole business. We have a complete system equipped with cutting-edge technology, ensuring a flawless performance at all levels.