5G is the most advanced connectivity technology so far, and it, being the future-generation mobile connectivity technology, has a strong influence on mobile app development too. This latest connectivity is all set to empower the modern mobile app development industry with faster speed and connectivity for mobile apps.
5g network has made it possible for us to enter into a new era of a high-class technology revolution. The involvement of wireless connectivity has evolved the way we used to transfer data, and now it has become a matter of seconds to share large files on our hand-held personal devices.
This breakthrough in technology is bringing major impacts not only on businesses but users all around the world will be benefited from this technology. Statista reported that by the year 2024, there would be 1.8 billion global subscribers with 5G enabled smartphones in their pockets.
What is 5G?
Before landing on to the impact of 5G on mobile app development, lets first understand what 5G is. 5G is another modern and the latest mobile broadband connection service. 5G simply refers to "the fifth generation."
5G is gradually taking over the 4G LTE connection and eventually will replace it in no time. 5G connectivity has improved the download and upload speed like never before. The same way 4G LTE took over 3G, 5g has engrained its paws in the new technological setting and has become a new industry standard to supplant 4G.
5G is yet not an upgraded version of the 4G network. Instead, it has a completely different network infrastructure. With its added features, 5G grabs strong possibilities to evolve the way smartphones, and mobile apps are used.
5G networks aim to reinforce network connectivity and speed. It has the potential to improve the smartphone experience for global users by providing quick data sharing, with connection speed that reaches around 10 gigabits per second. This speed is around ten times faster than 4G network connectivity speed.  High-speed data transfer can revolutionize the way people communicate. However, 5g not only bring faster speed for mobile app developers, as it is not the only element that counts for them. And rather, it draws a host of new possibilities for mobile apps development.
How 5G Technology Works
Well, curious to know about how 5G works? Let us explore what makes 5G so popular. Basically, 5G involves the use of three different spectrum bands for its process, and here are they explained: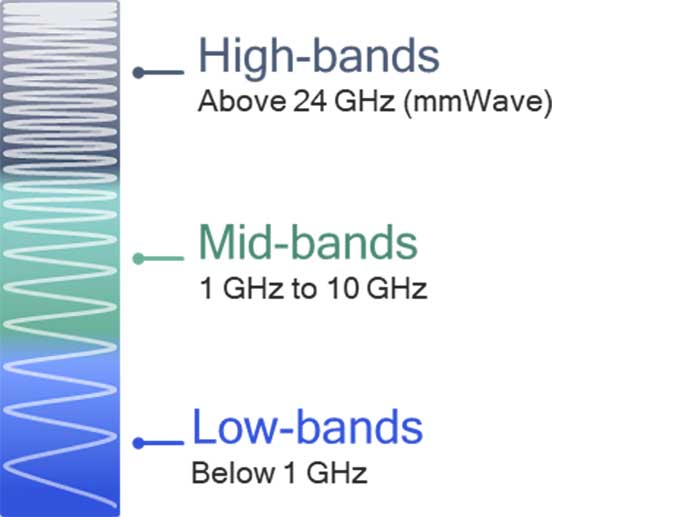 Low-band Spectrum
The Low-band spectrum is an alternative term for the sub 1GHz spectrum. For the carriers of connectivity in the U.S, the 1GHz spectrum is a primary band, and due to this, it is almost worn-out. This spectrum is the best option when it comes to wall penetration and covering large areas. Though, it has a drawback with regards to peak data speed, with its maximum of 100Mbps speed.
Mid-band Spectrum
The Mid-band spectrum comes next to the low-band spectrum. It is faster than the low-band spectrum. It is disadvantaged with regard to building penetration. Wall penetration is not as good as in the low-band spectrum. However, unlike the low-band spectrum, its peak speeds can reach up to 1Gbps.
High-band Spectrum
High-band Spectrum is supposed to be the most vital contributor to the highest performance for 5G, but it has several weaknesses too. It is alternatively known as mmWave, and its highest level of speeds can reach 10Gbps with decreased latency. Its major drawback is low coverage area and low building penetration.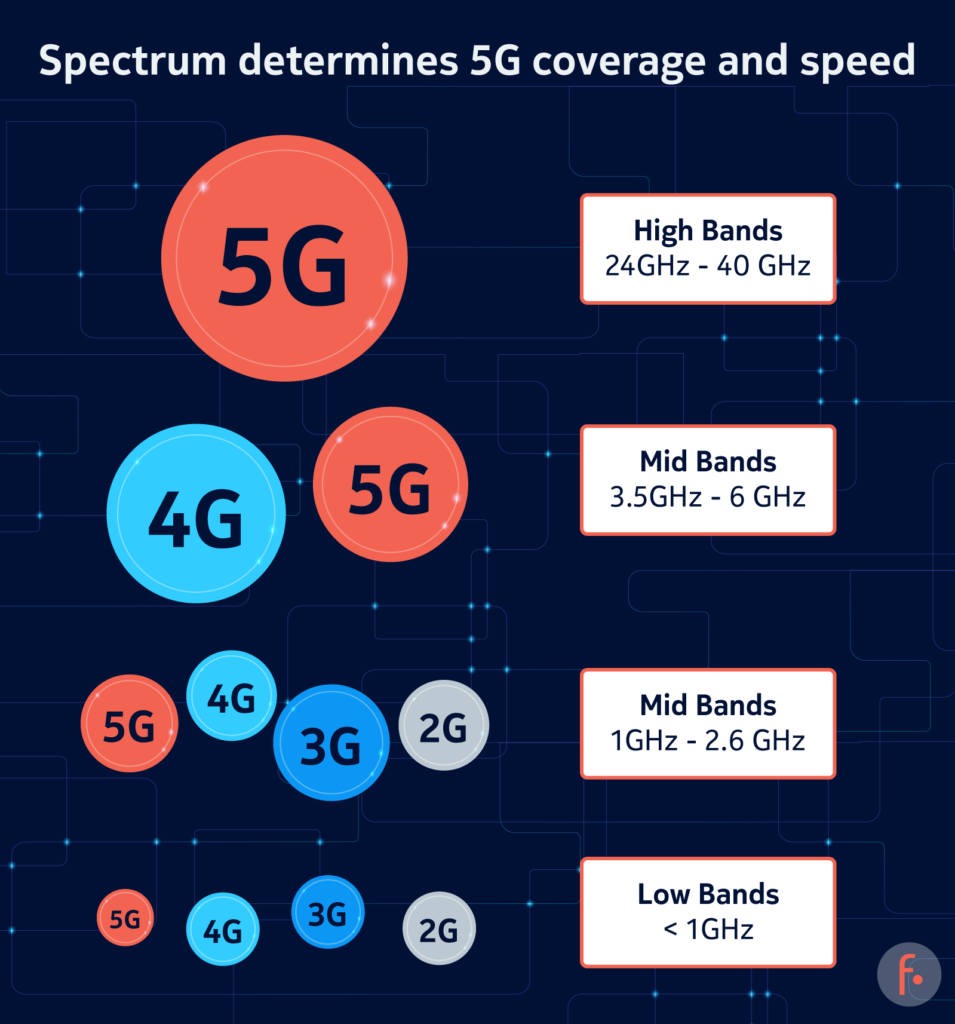 Features of 5G
Lower Latency
A common cause of concern for all of us, while using our phones, is delays., especially in times when users have to make critical decisions in real time using their devices and their networks. 4G networks have an average latency rate of 50 milliseconds, whereas a revolutionary feature of 5G enabled smartphones has is reduced latency. 5G networks have lessened the latency to one millisecond, supporting reduced network interference and delay issues.
With ultra-low latency communication, users can transfer data in real time no matter where they are and how many users are connected to the network.
5G enabled phones will empower users with better decision making in real time with increased efficiency and faster connectivity.
5G mobile technology is enabling mobile app developers with the freedom to create enhanced user experiences by including ultra-enhanced features without transfer rate limitations. Further, 5G enabled smartphones to take reduced time for the application download time, regardless of its size.
Increased Connection Density
Connection density means the ability of a network to uphold successful deliveries of a higher number of messages, even with more devices connected or in a highly-populated area. Comparing the predecessor of 5G, 4G can support around 2,000 connected devices per 0.38 square miles. The number of connected devices per user is expected to increase with the increase in devices like smartwatches, IoT, and simply more smartphones; the capacity of devices 4G can support is thus becoming inadequate. 5G has the potential to addresses this inadequacy by having an increased capacity to support up to 1 million connected devices in an area.
How 5G will Impact the Mobile App Development Industry?
With the launch of 5G connectivity, mobile apps do not only function more efficiently, but they are better positioned to integrate and benefit from technologies like AR and VR at their fullest potentials. 5G allows software and mobile development companies to produce enhanced user experiences. This ultimately increases mobile app efficiency, and users can more easily decide to retain with an app or to delete it altogether. However, with the availability of 5G, users are no longer going to delete a mobile app due to connectivity issues. With high-speed connection and low latency, 5G networks allow developers to offer end-users with brilliant user experiences. For instance, gaming and video streaming apps require less buffering time to enjoy its full value. Lower latency and high-speed connection transform experiences to be quicker in response and more immersive. Higher network speeds and the ability to handle more data with 5G enable players to download games requiring large amounts of data over a cellular network instead of being asked to download over Wi-Fi.
Assist Developers to Use Modern Tech
5G enables developers to incorporate more advanced technologies into mobile apps more efficiently. Moreover, the mobile app market is tending to see an upsurge in cloud-based applications. Since the tasks these apps require our smartphones to complete is becoming increasingly complex, with the ability to make apps that can use the cloud efficiently as a means for data storage can redefine how and when apps are used. Primarily, by keeping the app's data within the cloud, users are able to access and run apps without the need to install on their devices. This suggests that the limitations of a device's processing power and internal hardware don't impact the way an app is used and how efficiently it functions. Yet again, the integration of 5G makes the experience better for end-users.
Possibilities for Mobile Apps with 5G Network
5G will greatly impact the connection between smart devices and people. It will give a new face to mobile application possibilities at an improved and upgraded scale. Undoubtedly, this advanced network technology is bringing transformation in approaches used for Android and iOS mobile application development.
Keeping in mind that 5G is simply not an extension of service to 4G technology, as, in the case of predecessors, 4G and 3G, this technology is bringing improvement in improved user experience and thus bringing enhancement in the overall mobile app market. 5G, with its great influences, is all set to help various technical aspects to transform. Here are some explained.
High-speed Wireless Connectivity
5G has enabled a clean and smooth setting for seamless communication, even in crowded and remote areas.
Increased Immerisveness
5G has made the reaction time reduced to around one millisecond or even lesser.
Production and Logistics
With 5G enabled mobile apps, the opportunities for remote handling of machines in complex industries are even brighter.
Extended battery Life
5G enabled mobile devices will also benefit IoT devices greatly as it will extend the battery life of those devices by ten times.
Conclusion
Mobile apps are constantly growing to advance every day; 4G technology will simply be inadequate to support the massive amounts of data sharing requirements in this modern mobile apps setting. In fact, 4G has already depicted many signs of depletion, as studies demonstrate that 4G network speeds radically fluctuate at different times of the day based on the number of users connected. Moreover, there is still a lot of public who are currently relying on 4G technology. The converge of 5G will, however worth exploring their options with improved performance, efficiency, and connectivity.
Conclusively, To support the upcoming demands and requirements of mobile app development, 5G and its promise of reduced latency, increased connection density, and higher data transfer speeds will be the obvious options to offer users with richer and enhanced in-app experiences. For businesses and mobile application developers, this translates into increased user engagement and retention rates and improved figures in mobile app revenues in the upcoming years. With the launch of the 5G network, opportunities for an emerging mobile app development and software service is improving with the necessity to facilitate the data-intensive environment of 5G.