According to a Google report, among all of the search queries, 20% is done through voice. Since 2008, voice searches have grown to a considerable extent and contrary to a general belief, voice search is used not only for mobile devices but also for desktop computers. Moreover, people also use voice search for their smart speakers. Also, 41% of adults and 55% of teens use voice search daily (Google). All the major changes in voice search trends signify that by 2020, the ratio of voice search will be raised to 50% (Comscore). Either the prediction comes true or not, the ratio of voice search is progressively increasing. This is why both the web application development company and website owner are focusing on making their website voice search optimized.
The increasing ratio of voice search would broadly impact the way we optimize our website content for Search Engine Optimization.
There are three main reasons due to which voice search optimization is being important.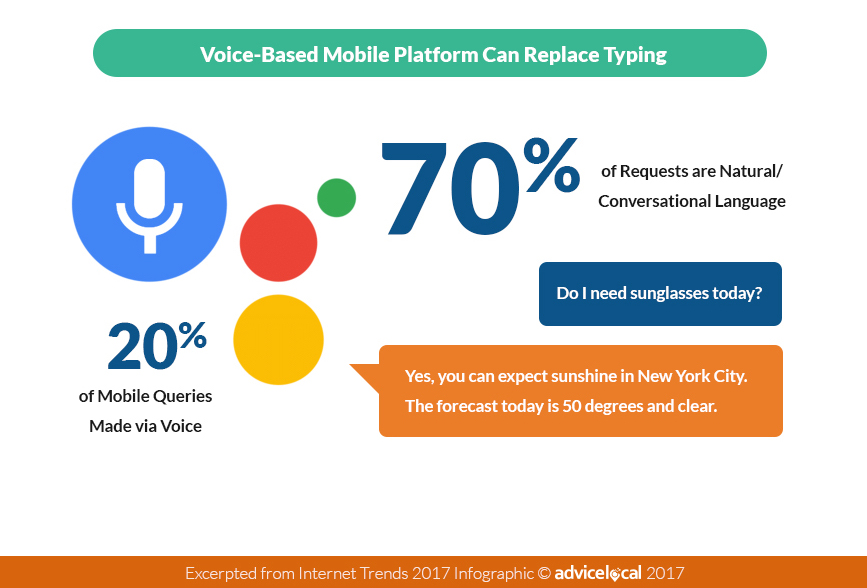 The primary cause is that voice search is usually much faster and easier than typing. When the search takes place faster, the results are faster as well. The quick search and response are moving people to do a voice search instead of a typed-version.
Secondly, for mobile-based searches, voice is perfect. And around 60% of mobile users do voice searches for many times.
The third driver of voice search is its convenience. Those who prefer voice search over typing, do this so that they don't need to type the query. Mainly, typing long queries is difficult as compared to say the word aloud.
As a result, Voice search is increasing to a considerable extent and thus impacting SEO. Website application development companies and business owners are putting in more efforts to improve the voice search optimization for their website.
How to optimize your website for the Voice Search?
Based on the increasing voice searches, we need to update our content in a way that it provides a solution to the voice searches as well. The content needs to be more precise and a direct answer to peoples' queries. Or else, we may lose our potential to appear in front of people. So, we need to cater for voice-optimized content.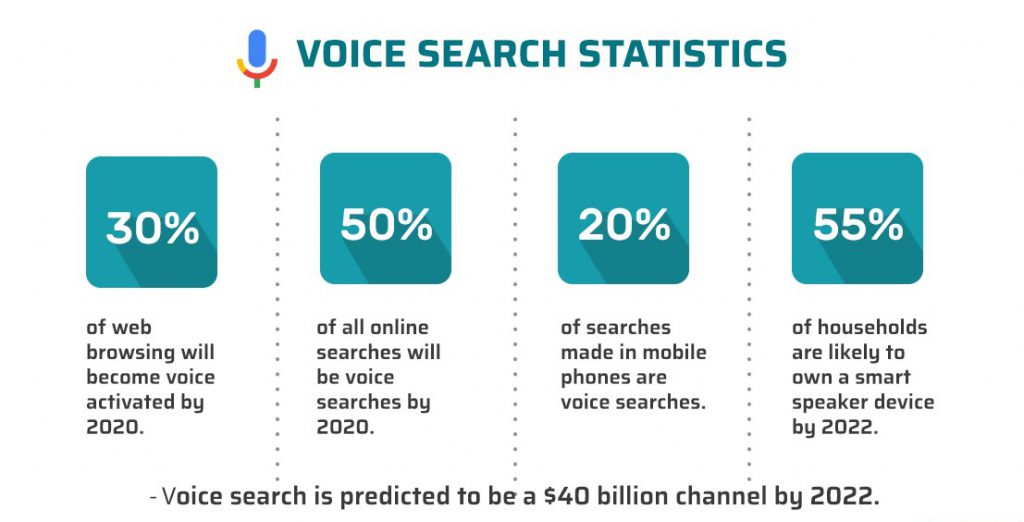 Write Content with Natural Language
Most of the time, voice searches are of inquisitive nature. For instance, people ask for "how to make a deep-dish pizza" instead of "deep dish pizza recipe". To have this answered, target "Question Keywords" including "how-to" "where" and "what is". Doing this can also result in your page for many different voice search queries.
Voice searches are done in a conversational tone, and the language is more natural. To answer the voice queries, write your content in a way that it includes concise and direct answers.
Moreover, creating a voice search FAQ page can be useful. These pages can perfectly cater to voice search needs. Also, you need to write your content in a way that answers questions.
Interestingly, Google is likely to answer voice queries with short answers of around 30 words. Include several long-tail keywords in the content.
Advanced Tips and Strategies
Since you already know that the ratio of question keywords is larger in voice searches, include filler words in those keywords. While optimizing for voice search, make sure to include filler words because with an increased amount of matches, you are more likely to appear on a voice search that has words like "a", "for and "me."
You might have heard this line many times before. Using simple language is a general yet effective strategy to target more audience while proving them better understandability. Especially in a voice-based search result, the content should be written at a 9th-grade standard or even below. It requires you to avoid fancy and complex words.
Make your site speed better:
You must want to keep your website speed faster. However, in the voice-based search, you would need to keep it even faster. Voice search brings content faster, and the loading speed for a voice search result is around 3.8 times faster than the typed search.
The average word count for the first page that appears in the Google search result is around 1900. However, the average word count of the first page for a voice search is around 2300. However, Google voice algorithm might not look for longer content but a page with more content has more chances of matching to a voice search.
Increase domain authority:
To rank higher in voice search, increase your Domain Authority. By building up your domain authority, Google is more likely to use your site as a source, even from those pages that don't include a lot of links. This happens because Google needs to give the answer from a more trusted site so it leans on higher domain authority.
Optimize for "Near Me" Searches:
Voice searches largely contain "near me" searches. So, optimize your website for near me searches. If you run a local business, you should optimize for "near me" and other terms that that voice searcher may use to find your place. For instance, if people search for a web application development company in Dallas or near Dallas, businesses that include "near Dallas" or "in Dallas" keywords are going to rank higher in the result.
Rank videos in search results:
Google also brings results in videos, as videos can be referred to as an alternative for natural language for voice searches. Google brings the section of a video that is relevant to the search query. It is observed that these video results are more common for a natural language search query. As a result, video plays a significant role in voice search optimization. To get your website at the top as a result of voice searches, include videos on your website.
Summing Up
It turns out that voice search optimization is the next important challenge for website owners and web application development companies. The improved search in more languages by Google has made it more fun for people to use voice search. Hence, here you get a new task for making your website more optimized.
For any further knowledge about web development concerns, this blog can be a good read.