What is an App?
An app or mobile application is a software that combines certain features in a way that is usable to a user. There are numerous apps available both on the App Store and Google PlayStore, which offer various services and features that make users download and use certain apps. In short, an app is a modern term used for a software application that is mostly used to refer to a mobile app or sometimes software that runs on the web.
How to Start an App?
Since the beginning of the app development process, it has become popular and becoming more popular every day. The popularity of mobile apps is not without a strong reason, but it gives a considerable business and profit to the app creator and the economy as well. Therefore, it attracts investors and entrepreneurs to make a mobile app and earn a better fortune for them.
So, if you think in the same zone and wondering how to develop an app, all you need to do is discuss your idea with our team, and you will get a clear picture of an ambiguous dream you had.
How Long Does It Take To Make An App?
Basically, it depends on the requirements and application development life cycle. If the app is as simple as a to-do list app, it might complete within a month or two. On the other hand, building software becomes time-taking and long if the app is complex. It might take longer from somewhere around four to eight months. To get more info on FAQs for mobile app development, read this.
How to Find an App Developer?
If you are planning to soon look for "app developers near me" searches for iOS and android app development services, Appverticals is one of the top companies in Dallas to answer all of your concerns and solve all of your problems from ideation and mobile app design to the application development and launch. We have gathered experience, expertise, skills, and expert mobile app developers in Dallas to serve our clients in the best possible manner. All you need is to have a casual discussion with our experts about your app development idea and process.
Mobile App Development Process
At AppVerticals, we use the Agile Software Development approach for our projects. From ideation to launch of mobile applications, we align the principles and design the processes in a way that ensures adaptive planning, practical solution, and on-time delivery to offer our clients the most advanced mobile app development solution in the market. Our developers and project coordinators constantly stay in touch with our clients during the plan and development phase. We use the following practice to complete a project successfully.
Ideation
We discuss the idea or existing business and project in detail. Based on your project requirements, we come up with a proposal that fits best to your requirements, time, and budget.
Plan
After the idea, the developers and design team carefully analyze the project requirements. We propose the best technology for your project, and let the client know about functional descriptions, and other means to modify the development process.
Design
Depending on the app requirement, we break the project into sprints. The project is then assigned to the team. We make sure that the final product becomes one of the best app designs in the market.
Development
Our team of diligent developers writes code that best fits our clients' project requirements. Meanwhile, our managers make sure the process stays smooth without any loops to maintain high performance and on-time delivery.
Test
Our Quality Assurance experts test the code keenly before release. The final product undergoes numerous manual and automated tests to ensure the glitch-free performance of the app.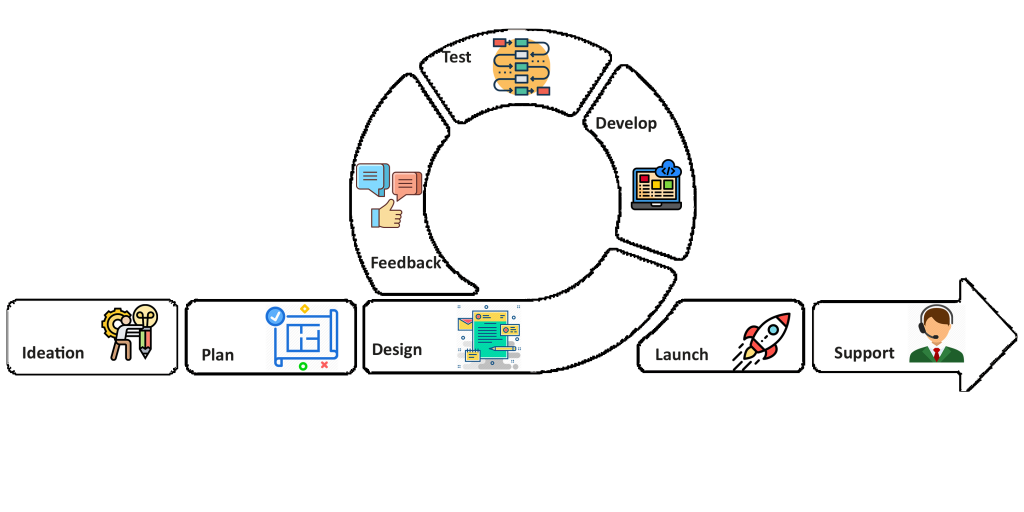 Feedback
After testing, the product is presented to the client. If it is up to the mark so far, we move on to the next step, and if the client requires modification, we make sure it best suits their interests with complete satisfaction.
Launch
As soon as the client approves the product, we launch the mobile or web app to the online market. Meanwhile, our team ensures the final product is free of errors that functions smoothly, offer excellent user experience, and easy discoverability on various platforms.
Support
At Appverticals, We offer full tech-support after the launch of your software product (as per the prior discussion). We deliver required updates to ensure the app functions seamlessly.
Industries We Serve
Our enterprise mobile application development solutions help progressive organizations to digitally transform their business across all verticals.
Healthcare
Healthcare mobile apps are one of the most practical mobile apps that need to be made. We provide assistance to hospitals, healthcare institutes, and pharmaceutical companies in implementing the latest technologies to bring improvement in the healthcare system and fulfill mission-oriented business functionality.
Education
Educational institutes, entrepreneurs, startups, and others will benefit considerably by adapting education mobility solutions. We are aimed at improving the education system by personalizing the learning experience for students across the globe and enhance educational infrastructure. Our experts in educational app developers leverage technology with in-depth knowledge of educational improvements to introduce one of the most functional, practical, and scalable learning educational software.
Logistics
We provide reliable and transparent mobile app development solutions to transform your logistics operations and related systems in excellence. Our solutions enhance crucial decision making, improve performance, and ensure transparency and visibility at all levels.
Fitness
We are aimed at helping global users stay healthy and fit with a few taps on the customized and scalable health & fitness app. get your hands on the ever-growing mobile app market with our scalable android and iOS app development solutions.
Media & Entertainment
A robust mobile app solution empowers entertainment business & startups. For the media and entertainment industry, a mobile application for multiple platforms is a must these days. We help media businesses accelerate on the path to success with a well-crafted mobile app that satisfies the modern needs of users.
Gaming
We provide unmatchable mobile app development solutions for the gaming industry. We help gaming apps break the barrier with interactive & creative theme combined with a dominant performance. We help build gaming apps that are cross-functional and support multiple smart devices, including mobiles, tablets, iPads, and desktops.
On-Demand Apps
In the on-demand sector, mobile app development solution largely contributes to connecting service seekers with service providers. We offer the best iOS and Android mobile app development services covering the top features to meet all on-demand requirements without hassles.
Features of Mobile App Development at AppVerticals
We strive to provide reliable development services continuously. At the core of our organization, we have the aim to transform business and re-define the achievements of our clients. As a growth partner in your business, we follow a process to plot your journey seamlessly.
Smooth Interaction
We provide smooth interaction through call or meeting with the client.
We understand and analyze project requirements.
We make it easy for you by defining the problem and proposing a practical solution.
Centralized System
We provide precise documentation for business requirements.
We screen Wireframes.
We provide our clients with interactive prototypes.
We offer detailed sprint planning.
We complete the development phase using the Agile development methodology.
We perform quality assurance service and user acceptance testing.
Delivery
We deliver through a powerful working system.
We wrap up the process with proper documentation.
Final Words
As a leading mobile app development company in Dallas, we appreciate the business owners, startup founders, entrepreneurs, to connect and discuss their ideas and queries. We have the potential to turn simple app ideas into a major success. We deliver transformational results in the form of Best apps to make money. We simply are passionate about partnering with people having potential ideas and help them create & launch the best app for users.