We have seen people complaining about a shortage of clothes despite having a cupboard filled with so many clothes. The problem is real and takes many precious minutes from our daily lives like we spend a good amount of time finding clothes and thinking about which pair of pants compliment the top and other similar queries. So, we confess that the problem is there, but what is the problem actually? The shortage might not be a major concern here, but searching, planning, and organizing are. an outfit planner app can significantly solve tjis problem.
This makes all of us look for a solution that makes it easy for us to decide what clothes we can wear every other day. As a result, some genius brains collaborated with professional mobile app development companies to come up with some really functional outfit planner apps. Outfit planner apps can help us plan outfits to wear on a daily basis. These apps can help us organize all of our clothes digitally in one place and then get inspired to style ourselves. This blog talks about the following three outfit planner apps.
Stylebook
Pureple Outfit Planner
CladWell
Stylebook
Availability: iPhone
Price: $3.99 per month
Rating: 4.7/5
Download it here.
Stylebook is one of the most preferred outfit planner apps that fall under the lifestyle category. The app particularly stands out on the AppStore with 4.7-star ratings. Stylebook is a feature-rich app with a good functionality of each of those features. Some of the most popular publishers, including Forbes and The Huffington's Post, have featured Stylebook as one of the best outfit planner apps. Let's explore what makes this app user favorite.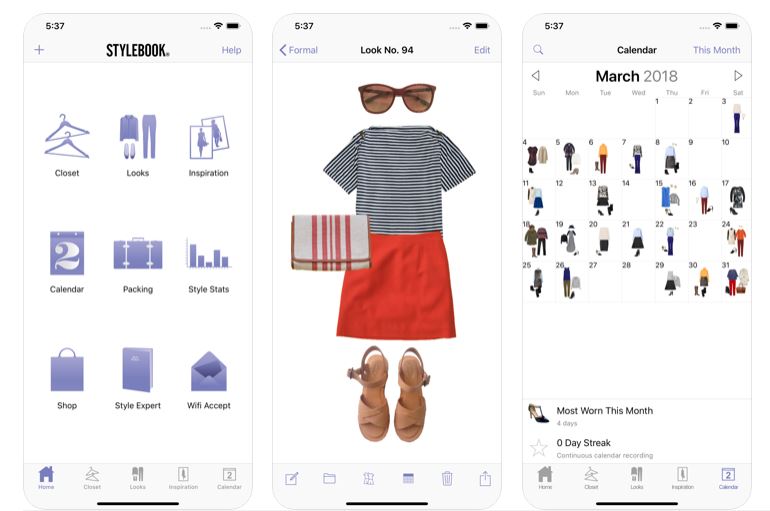 Major Features
The app allows users to add images of their clothes to the closet. Users can use the background removal tool to make collages easily. Moreover, you can resize and arrange clothes as a free-form object on a blank screen. What makes it more interesting is the ability to shuffle different clothes to check what works better for you.
The app lets you know about your dressing stats. Which of your dress look good, and where you lack an element of style. It tells you which of your dresses were cheap yet very elegant. Moreover, you can search from your closet and organize it by colors, brands, fabric, season, and size. You can also watch from an inspiration library and save what you like. On top of all, there is no limit on clothes, accessories, and inspirations.
Added Features
You can use a calendar to plan what to wear ahead of time. The app provides you iCloud backup so that you can protect your data by backing up with iCloud. You can also create custom categories to add, edit, or delete any category in the app closet, looks, and inspiration library. The app also enables you to shop for items from store websites and try on virtually before buying. And what's more? You can also add your own stores.
The app can also work as a style expert fro you. It enables you to read interviews with clothing and fashion insiders. You can learn to manage your wardrobe.
The app also allows you to share your outfits with friends via social media and email.
Packing lists are also available where you can add whole outfits and plan your packing in advance. The app enables travelers to generate printable checklists and infographics to help them while they travel.
The app also helps those who find it difficult to use the app. they can head up to the help section to find how-to manuals and demo videos. Moreover, you can always reach out to email support.
The Pureple Outfit Planner
Availability: Android and iPhone
Price: Free – Offers In-App Purchases
Rating on App Store: 4.0/5
Ratings on Google Play Store: 2.2/5
Download it here.
The privilege that the pureple outfit planner app takes over Stylebook is that it is free. However, it offers in-app purchases. The app has useful features and a good UI to entice users. Let's take a look at its features.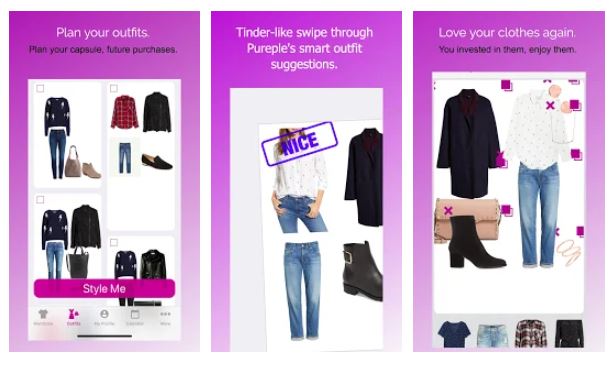 Major Features
The app enables users to take photos and add items directly from the web or database. The app then auto categorizes the added items. You can organize your clothes by color, brand, season, occasion, size, material, price, and more. The app enables you to create your own categories. You can also filter through the items and find what you look for. Users can create their own lookbook.
The app help users to keep track of when you wear an outfit or plan outfits with the Pureple calendar. The app allows users to share their outfits with social media. Moreover, they can discover new trends, get style inspiration from the Pureple community. Pureple is for both men and women of all ages and lifestyles. Users can customize as per their needs.
Added Features
The packing list, background eraser, and crop tool for photos are some extra features that make the app more considerable for users. These features enable them to make the most of the clothes you already have in your closet. You can also catalog all of your clothes and accessories, including shoes, makeup, and hairstyles. The app can be accessible anytime and anywhere. You can check what you have organized and plan to wear outfits in advance, all at your convenience.
CladWell
Availability: iPhone
Price: Free – Offers In-App Purchases
Rating: 4.0/5
Download it here.
Cladwell is another users' favorite outfit planner app. users can download this app for free. The app offers free features for a seven day trial period. After the trial period, users might need to make in-app purchasing in order to use paid features.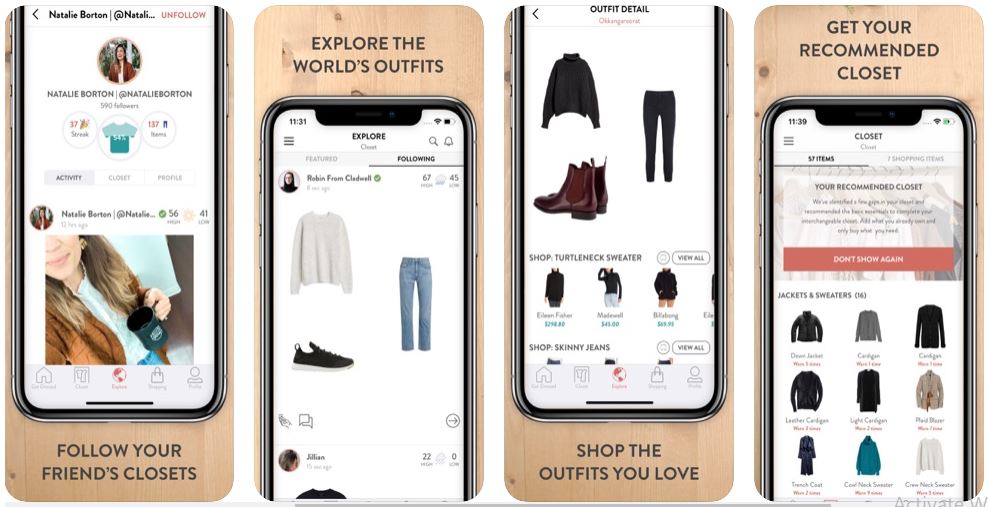 Major Features
Cladwell is a user-friendly app that enables users to add items by simply Tapping them. The app allows you to organize Your Closet. You can categorize your clothes for travel, packing, events, and much more. The app can help you by showing you the most relevant outfit ideas, specific to the category. Moreover, you can find daily outfit ideas from style experts.


The app sends you daily outfit inspiration based on clothes in your closet. Clothes suggestions vary with the weather forecast, too. Users can simply swipe through the clothing inspirations and log it for the day you want.
You can also discover your personal style with Cladwell. It allows you to track what you wear each day, so you can learn about your personal style and figure out what suits you more. In fact, you can also find it easy to Feel great about cutting the closet clutter while looking great.
Added Features

You can smartly shop from the app and find out what matches best to the outfit you already have in your closet. With this app, you can even follow your friends' closets and explore how they are styling. You can also follow friends' closets and explore more find more outfit inspirations.
Besides friends, you can follow people around the world and nd discover new outfit inspirations all around the world.