Everything is transforming mobile, and every business and, companies are patently becoming aware of the dire need of time to embrace the "mobile" strategy. In recent years the use of mobile has predominantly increased ad particularly, mobile app usage has exceeded the overall desktop usage. It wouldn't be wrong to say that this extreme popularity of mobile and mobile app usage is because using a phone is more convenient than a desktop. It is easily accessible at any time just at your arm's length. It's handy and "mobile." The difference that smartphones are making today is primarily because of the ease that you can carry this device everywhere you go.
While mobile is being popular, businesses can opt for either mobile responsive websites or simply mobile apps to grasp potential users. So, there are people who say in favor of mobile responsive websites while some support mobile app development claiming its inevitable advantages. Let's evaluate in the light of key benefits, facts, and figures about mobile app versus mobile websites.
In 2014, mobile apps started to outdo the desktop usage by 50% and then it began to surpass the desktop usage to very low for the total of digital media time spent in the U.S. another report from App Annie says that he mobile app industry made $41.1 billion in gross income revenue in 2015. The increase in mobile app revenue generation specified its popularity and maximized in the later years. With this increasing
Difference between Mobile App & Mobile Responsive Websites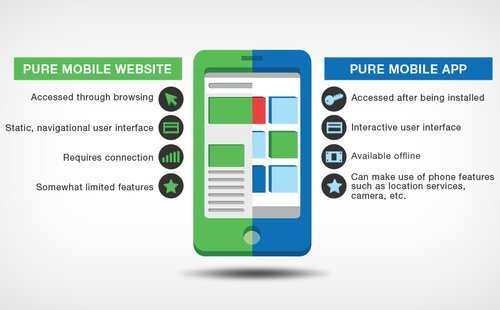 What is the benefit of a mobile responsive website over an app for businesses?
The advantages of a mobile app over a website are many. Mobile apps are developed for particular platforms like android or iOS. It is a completely different asset from a website.
Branding Opportunities
Mobiles apps are beneficial for companies in many aspects. A significant benefit of having a mobile app for your company is that you get to have a new medium for experimenting with new branding strategies. From the user interface to the services offered, each element can be designed to maximize the brand exposure for users, enabling better customer engagement.
Personalization
Personalized customer service via mobile apps can enhance the user experience to a great extent. Mobile apps are designed to offer tailored services for each individual based on their location, preferences, usage behavior, and interests. This detailed-oriented service is not possible with the website. Mobile apps can be customized and be handier in different ways for different individuals. This type of quality user experience boasts a more personalized brand communication and promotes a positive brand outlook, encouraging more word of mouth marketing for the companies.
Offline Availability and Use of Device Capabilities
A mobile app is often available offline and can integrate with the device's features like camera, GPS location, Bluetooth, call, message, and more. Moreover, providing access to the device's features is significantly vital for retail apps as they improve overall customer experience. Improved customer experience can have a major impact on sales, and a mobile app is an ultimate way to enhance the overall shopping experience, serving as a digital retailer's store and offers features that re not available in other ways. These are a few options with a mobile app that can make use of push notifications, call and email with one tap, camera, instant updates. Whereas, mobile websites are limited when it comes to using the most features of a mobile device. Mobile responsive sites, however, can use a few features of mobile devices including GPS, and camera.
What is the benefit of a mobile responsive website over an app for businesses?
There are a few advantages of the mobile responsive website over mobile apps. Since a mobile web or a mobile responsive website has a responsive design that works as efficiently in a mobile device as in the desktop version, it is a customized version of a regular website that works for different platforms and screen sizes. The following are the benefits of a mobile responsive website:
Cost-Effective
One of the most prominent advantages of a mobile responsive website over mobile is that it is less expensive. The cost-effectiveness sofa mobile responsive website makes it a popular choice for a lot of low-budget businesses that, too, without the limitation of the platform.
Broader Audience
A mobile website gives you an opportunity to reach a wider audience and is accessible for multiple platforms. Mobile websites can be shared and accessed easily without the need to download the whole app.
Brand Visibility and Improved SEO
Mobile responsive websites have better SEO opportunities and visibility for Google SERP. After Googles has updated the website ranking strategy, mobile-optimized websites are ranked higher in SERP than sites that are not mobile responsive or better optimized for mobile. Consequently, companies with mobile responsive websites are tending to get more business by ranking on top results with greater brand visibility and increased website traffic.
Cons of Mobile Web or Mobile Responsive Websites
Mobile websites are a popular choice by many companies, and a strong reason for that is it is quite less expensive than building an app. But, when it comes to personalization and engagement, mobile apps defeat websites. Moreover, websites cannot be perfectly optimized with varying devices from different users, so it is not feasible in the website to make the best uses of smartphone's other capabilities.
Also, a website's design can be impacted by the change in choice o network used for accessing the website. The network speed and quality may impact the overall website experience for users. Navigation and user experience is better in the mobile app. since users enjoy a seamless and convenient experience in a mobile app, it paves the way for a simplified journey towards the product or service acquirement. Inability to simply the experience for users can make them frustrated and make them the site at once. This not only disrupts conversion but also damage the brand image among your audience. So, always ensure that you optimize the functionality of your website for mobile devices so that the user journey is simple and short towards the sale.
What Should You Choose for Your Business?
After going through the benefits of both mobile apps and mobile responsive websites, you may figure out what suits your business more. For any other information, query, and concerns, you can always connect with one of the most outstanding mobile app development company in USA, Appverticals. So, to build a mobile responsive website or a mobile app, your business objectives has a major influence on deciding either option. Putting it simply, if your ultimate goal is to provide user-friendly content to a wide range of audiences, then a mobile responsive website is for you. On the other hand, if you want to engage, communicate and interact with your target audience to generate leads and retain customers for a longer duration, then you should go for a mobile app development choice. And if you want both of the above results, you might need a mobile responsive website and a mobile app, both. And above all, make sure you keep everything to its best to give the best experience to your customers.