Technology has brought a significant change on our lives. The difference it makes is not limited to just bringing change, but it has brought a complete transformation in the way we used to live our lives. In fact, some mobile app revenue has risen to the point where it exceeds the total GDP of well-developed countries.
The impact of mobile apps has now been rooted deep in our lives that we cannot even think of living without these apps. For instance, there are some apps that we frequently use on a regular basis, like WhatsApp and Uber. People who have made these apps a part of their lives must find it difficult to carry their routines without using these apps.
What makes Mobile Apps a life-changing thing?
Similarly, different people find different apps mandatory in their lives. Everyone relies on the apps installed in their devices for communication, travel, payment, entertainment, and much more. For some, youtube is a major source of living, and they cannot believe spending their lives without having a YouTube app in their smartphones. It would not be wrong to say that mobile applications have taken over our lives significantly, if not completely.
There are billion of mobile apps in leading mobile app stores, and they are responsible for generating billion-dollar revenues for mobile app development companies and advertisement agencies. Apps have become a vital part, and they are going to stay here. Moreover, entrepreneurs and app developers are filling the gaps in society and developing apps that offer perfect solutions to the problems prevailing in our lives. The following are some of the interesting facts about mobile apps.
1. Apps Available in Leading App Stores
Statista reports that Google Play is the app store with the highest number of apps available. As of 1st quarter 2020, the store contains 2.9 million apps, while Apple AppStore is the second-largest app store with approximately 1.85 million available apps for iOS.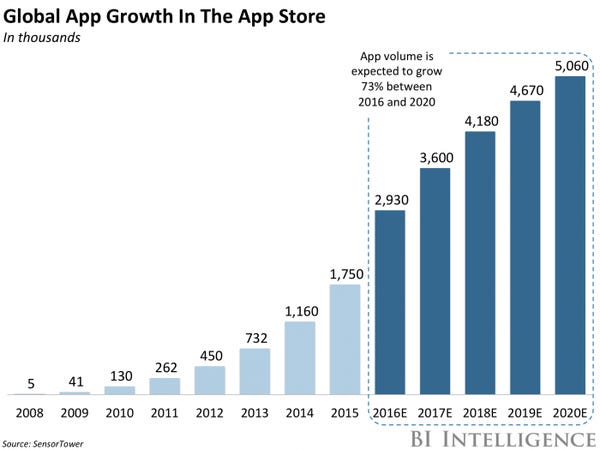 2. Most Downloaded Apps
Facebook itself topped the list with a whopping 4.6 billion downloads over the last ten years. Facebook Messenger, another messaging service owned by Facebook that spun out of its in-app chat feature, beat out WhatsApp with 4.4 billion downloads. On the other hand, WhatsApp comes nest with 2.3 billion downloads.
3. Total Revenue Generated by Mobile Apps in 2019
According to Statista, mobile apps generated 461.7 billion US Dollars in 2019. This is a considerable amount that translates into the more significant impact of mobile apps every passing day. With the increased number of apps with the ever-increasing use of mobile apps, this number s project to increase with time. This enormous amount of revenue coming from mobile apps suggests businesses considering investing in mobile apps for a better outcome.
4. Time Spent on Mobile Apps
On average, an adult spends 4 hours and 39 minutes on communications mobile apps in the US. Time duration may vary in different parts of the world. However, this is around 1/5th of the day. This translates into a enormous potential of communication apps such as Whatsapp, Snapchat, Messanger, and Tinder.
5. Most Used Apps
Gaming mobile app development is an extensive and time-taking process, but it can bring a lot of fortune to app development companies. Users spend a lot of time and money on games installed on their smartphones. Many games are observed to create a better addition for users to play, and they don't stop using apps even if they have to pay for it. On the other hand, lifestyle apps have comparatively lower retention rates.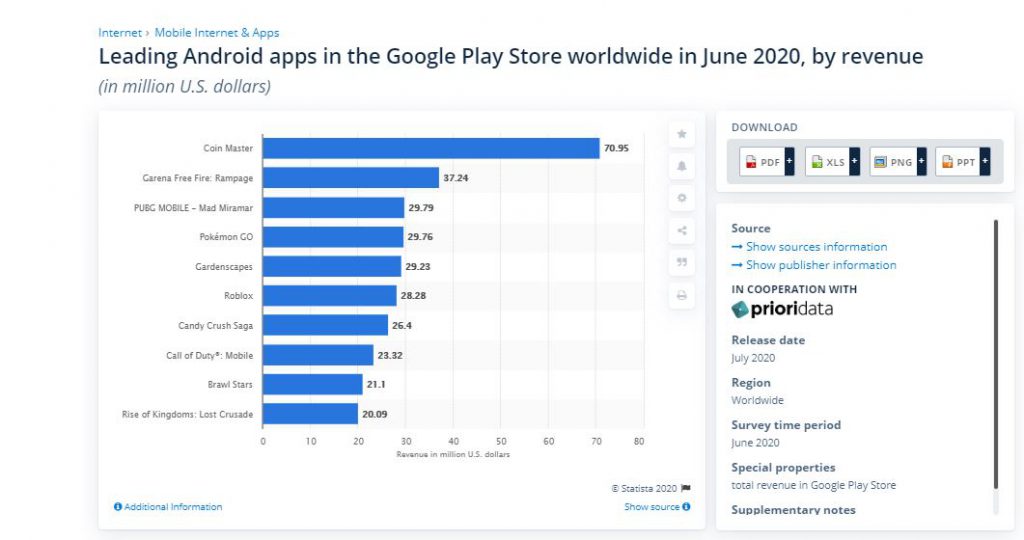 6. Time & Money Spent on Gaming Apps
Users spent over 19 billion US dollars in Mobile Games in the second quarter of 2020. Both Android and iOS app stores observed significant growth in consumer spending in 2020. As of the quarantine period in 2020, users spent more time mobile games. This leads Google Play to a standout growth at 25% the quarter after quarter in 2020 that is around double the growth rate on the iOS platform. according to a report by Statista, revenue in the Mobile Games is projected to reach 55,315 million US dollars in 2020.
7. Most Revenue Generating Mobile Apps
Tinder managed to stand at the top position in non-gaming app revenue rankings worldwide, generating approximately $233 million from user spend, up 7 percent Y/Y. YouTube continues to be a fast-riser after increasing in-app spend by 16 percent Y/Y to $164 million. Every quarter, YouTube app revenue has never declined in terms of user spending.
8. Smartphone Swipes in a Day
Have you ever thought about how many times do we swipe or unlock our phones? Typically, a smartphone user opens their phones over 80 times a day. Since we are moving into an app era, we have several mobile apps for communication, smartwatches, smart home, TVs, security cameras, and much more. This has increased the number of swipes.
9. Apps vs. Desktop Sites
Since the smartphone is handy and convininet, now most people prefer using an app over a website. On mobile devices, apps are more user-friendly. This has compelled businesses to consider developing progressive web apps where users can feel like using an app without the need to download the app. the functionality of mobile apps is extended to the web as well. In short, internet usage is shifting from desktop to smartphone, and mobile apps are a significant contributor to bring this change.
10. Free Apps Popularity
Free apps with in-app purchase options are found to be the most popular on the play store. This trend is projected to exceed to continue in the future due to ever-increasing competition in mobile app development and technology trends.
Final Words
These apps are bringing a lot of opportunities in every field. The above mentioned facts about mobile apps add insights about the value of mobile apps in today's life. Many new and exciting apps have changed the perspectives in our lives. No matter what profession you have, you can find many apps that benefit you and help you in your industry. Whether you are a marketer, chef, engineer, artist, teacher, student, or any other professional, you can grow at a higher pace by making use of some useful mobile apps. Thus, these apps help you implement the latest technology in a way that can benefit your business.