Who thought that mobile app development would play such a big part during a pandemic that is quite alien to mankind. Previously, the messaging app giant WhatsApp declared its limitations on forwarding messages to curb the mass spreading of misinformation regarding Coronavirus.
This effort from WhatsApp is being lauded globally. Now, Snapchat has also decided to pitch in by converting one of its most popular feature into a powerful COVID-19 relief tool.
Snapchat's AR Feature Allows Users to Donate Money
This photo-messaging app's most popular feature is the Artificial Reality Lens that allows users to add filters and fun effects to their real-life image. More than 75% of the Snapchatters interact with AR content on a daily basis including sharing messages with friends and posting photos and videos on their stories. So converting the most-used feature as a money-donation tool was a genius idea. In addition to this, these AR lenses have reached nearly 130M Snapchatters worldwide.
How does it work?
The image recognition technology within Snapchat is used to detect 23 international currencies from 33 countries, according to the announcement made by Snapchat. Moreover, this effort towards donating WHO's COVID-19 Solidarity Response Fund is a clear indication of how AR technology can be utilized for payment schemes; especially during harsh and trying times like these.
Snapchat asks users to scan their currency notes with its camera. This opens computer-generated images of how their donations can help to reduce the pandemic. 'Donate to Support' button on the screen, when tapped, will open a page to enter your payment information.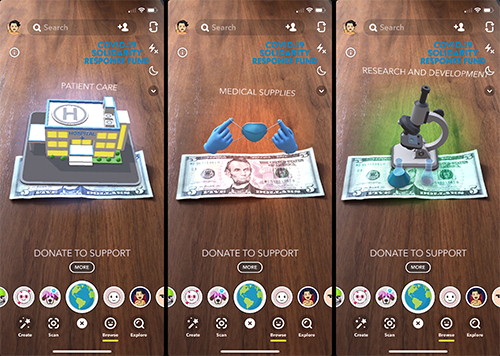 Moreover, Snapchat also made use of its Discover section and all stories on COVID-19 can now be swiped up for direct donations. This is a great way for all news publishers that are covering COVID-19 pandemic and uploading on Snapchat to incorporate this and allow Snapchatters to make direct donations by swiping up from their content on Coronavirus.
More Details:
Snapchat has skillfully targeted AR Lenses that have a massive reach, which will definitely reap more donations towards the relief funds that the world so desperately seeks to remove this pandemic that has taken over the world like a plague. Some countries like Italy and China are a heartwrenching depiction of Coronavirus' devastation.
As for the Discover content, in the midst of Coronavirus, this section of Snapchat is experiencing surging traffic as users are gravitating towards the latest news, information, and coverage on this pandemic. Moreover, to reduce fake news and misinformation about COVID-19, Snapchat has carefully curated a list of content providers on its Discover section. These content providers not only help in keeping the dignity and authenticity of Snapchat intact but also make sure that the information being posted is accurate and genuine.
Snapchat also communicated that more than 40% of users falling in Gen Z in the United States have seen the content on this pandemic on its platform. So, the discover section is active and incorporating direct donation options through the SWIPE UP feature will add tremendously towards the gathering of funds.
If you are a Snapchatter then this is your chance to make a difference. Donate and help the world destroy Coronavirus! #StayHome and #StaySafe.