After exciting iOS 14 leaks, Apple rolled out iOS 13.4 software update for iPhones and iPads and we see some useful features that will make work on Apple devices easier and simpler. However, it is to note that this software update is available for devices that can run iOS 13 – which normally includes iPhone 6S and later, iPod Touch 7th gen, iPad Air 2 and later, and many more.
So coming to the new features, the 5 that stood out the most are discussed below.
Native Mouse Support for iPad
Considering iPads are powerful machines that many make use of for work, this feature has come in as a relief. Now, iPads that can download iPadOS 13.4 can make the most out of these mouse support features.
You can easily navigate your iPad with a cursor by simply connecting a USB or Bluetooth mouse. What more is that according to the sources, iPad Pro is also getting an optional Magic Keyboard with trackpad sometime in May that will support this new feature – basically converting your iPads into mini-computers.
Folder Sharing Option
Great news for everyone that has iOS 13.4 and iPadOS 13.4 installed can now share their iCloud folders with each other. Of course, cloud storage sharing options come with security features that allow you to invite specific users or create a shareable link. You can permit or deny edits made to the files by others.
New Memoji Stickers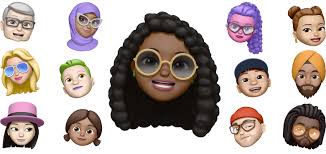 Apple users love to use these Memoji stickers and Apple added nine new ones for you to have fun within iOS 13.4 and iPadOS 13.4 update. Smiling Face with Hearts, Hands Pressed Together, and Party Face naming a few.
One-Time App Purchase to Use on All Apple Devices
Self-explanatory title, right? But to explain this exciting feature further, Apple is allowing app developers to create "Universal Purchase" bundles. This bundle allows you to pay for an app once and for a single app on all of your Apple devices. Since the same app on the iPhone wasn't useable on iPad.
Hopefully, now an app purchased for multiple Apple platforms will be able to allow file or data transfer and sharing.
Third-Party Navigation Apps Supported by CarPlay
Apple Maps aren't as popular as Google Maps, and now with iOS 13.4 updates, you can use any mapping app of your choice when iPhone is plugged into your car. No more stuck with Apple Maps when your iPhone is connected to your vehicle through CarPlay.
Native mouse support and file sharing are the top picks among the rest of iOS 13.4 updates; that has gotten us, as a mobile app development company excited. What has gotten you excited? Let us know in the comment section below!
Featured Image Creds: 9to5Mac