The coronavirus is spreading severely all over the world, leaving everyone detached, distressed, and distanced. The hospitals are overloaded, and the streets are empty. Most of the countries are facing a situation of lockdown where students no longer can go to school, and workplaces have withered either to work-from-home or just absence until any further notice. Apart from the spread of disease, deaths, joblessness, economic downfall, and the scarce supply of prevention equipment, this pandemic disease has created a state of distress and anxiety over those who are physically healthy and staying at home. Constant news and updates of this pandemic invading through cities and countries, people are feared about their future. People are concerned about a lot of things, and this is causing anxiety and distress.
No matter what shape the situation takes in COVID-19, we have to stay sane throughout the crisis. So that we can stay strong and fight back collectively. Above all, the feeling of worry and anxiety is normal in such a huge crisis, but it can definitely be managed. Do the following things to keep yourself stable and Healthy until we come out of danger of corona virus disease 19.
Limit Unnecessary Media Exposure
With news of the increasing number of deaths each day, massive job layoffs, and reports of hospital supplies running short, Americans are stunned by the situation. If you want to not lose your hopes and sanity, stay from chasing each and every update about the virus's spread. And, if you are experiencing anxiety or stress, you definitely need to limit your media exposure about COVID-19 news.
Since you know everything so far and you have a general idea of what is happening around, don't get made on everything you hear about the disease. This helps in coping because you naturally get panicked when you see news anchors and analysts overestimating the threat and underestimating the ability to get through this. On top of all, exposure to unreliable news sources and undocumented statements can be hazardous to the stability of both physical and mental health.
Protect yourself and everyone around!
Do everything to protect yourself, your family, and your community. Major practices include excellent hygiene and social distancing. If limiting yourself to home makes it safe for you and your society, do stay home. Don't let anyone go out unnecessarily. Be vigilant about the symptoms in anyone around. Make sure you follow all the prevention measures to stay protective and strong.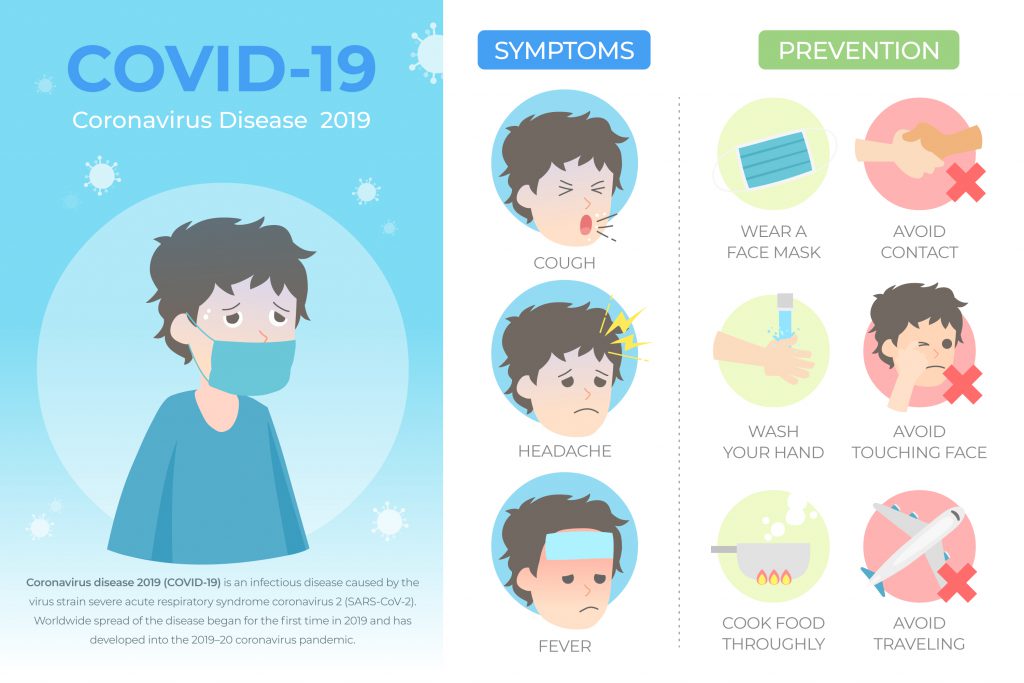 ­
Meditate or Seek Online Mental-health Professionals
Consult with an online mental healthcare professional or download a de-stressing mobile app. Many mobile app development companies have worked on anxiety and de-stressing apps that are highly suggested in dealing with the stress related to the COVID-19. Some stress-relieving apps can help more immediately and cheaply, too, some of these apps help you track your mood and daily activities so you can follow a schedule promoting mental-health.
Moreover, in a globally concerned situation like this, therapists all over the world are switching to online practices, and many established virtual therapy services are helping those who are suffering through.
Some doctors, therapists, and social influencers are going live on their social media accounts to offer helpful insights on anxiety relief and mental health issues these days.
Eat healthy and Exercise
What's most important in this crucial time is staying healthy and keeping your immunity strong. So, take special care of yourself during the COVID 19 pandemic. You can keep yourself strong and healthy by taking good nutrition and sufficient body movement. Don't skip working out even if you do a little. Avoid smoking and particularly, alcohol consumption, as it may weaken your immune system and make you more vulnerable to the disease.
WHO's Director-General Tedros recommended the following five things to fight the pandemic:
Eat a healthy and nutritious diet. It helps your immune system to function properly.
Avoid alcohol and sugary drinks.
Avoid smoking as it can intensify the risk of developing the severe disease if you become infected with COVID-19.
Exercise. 30 minutes of physical activity for adults, and an hour a day for children is recommended.
In compliance with your local guidelines, go for a walk, a run or a cycle ride, but make sure you maintain a safe distance from others. If you cannot leave the house, find an online exercise video, or get a fitness mobile app. you can simply walk around your house and go up and down the stairs.
Most people have switched to working from home, if the case is the same with you, don't sit in the same position for hours. Make sure you get up for regular intervals and take a 3-minute break every 30 minutes.
Stay Connected with your Friends
Don't quit your virtual hangout during social distancing. Use the time to reach out to your old friends, loved ones, and family. Call them, talk to them, and help both of you release stress.
Social isolation can cause depression and weaken your ability to fight simple problems. So just because you are physically distant from people, you can still stay connected to your loved ones on call, group chats, and social media.
Fortunately, we are living in an era where doing so is easier than ever. Your phone and mobile apps like WhatsApp and Skype can help you see and talk to those you love and care about. Talking to people and asking how they are doing can help boost your mental energy and theirs too, which, as a result, reduces stress.
Take a Breath
Breathing is a tried and tested strategy to deal with anxiety and stress. Theses two symptoms are quite common fo people all around the world in Covid-19. Breathing a magical way-out for those experiencing anxiety. Simply inhale for a few seconds, hold on, then release your breath for a longer time than you inhaled. Exhaling longer can help you release all those stress and anxiety within your body.
Maintain a Routine
To keep everything normal, try to follow a normal routine life that you were used to follow pre-COVID-19. Follow a scheduled reading, eating, and playing time with your family. Let your kids not be mentally affected by this change. Try to keep things normal for them, too. Plan indoor activities for them and teach them to be grateful and tolerant in a difficult situation like this.
Stay Grateful
Be motivated by focusing on what you are grateful for. Don't get panicked for things you can't control. You are not going to lose anything if your wedding postpones or your kids stay absent from school for some time. Rather, focus on things you value and what you are grateful in your life. There ate still a lot off things in your life which is a lot better than many people around in COVID-19. Look at the suffers and the disease victims, thank God you are safe and healthy at your home. Even if you develop symptoms, stay sane, take action wisely, and you can get rid of the disease with God's will.