With a lot of mobile apps mounting in the app store, you need to create a solid reason why your app should not go unnoticed in the app store. Mobile app development is not just limited to get your app developer to complete the given tasks. Mobile apps face extreme competition in the market as succeeding in it can create high levels of profit. Like any other business, the mobile app development process needs to be well organized and strategized to acquire success in an extremely competitive market.
A mobile app designed to exceed users' expectations and offer a solution to the users have better chances of success. So, what are the elements that help make such an app? Here are some crucial aspects that need to know before getting into mobile app development.
1. Conduct Market Research
Market research offers you an insight into your app requirements and feature set. Research and development have a great significance before getting your hands on to any important task. In-depth market research allows you to obtain necessary information about current market scenarios, target users, and competitors.
It helps you learn about different strategies and ideas that help to execute the process. Moreover, research also helps you learn about mistakes made by your competitors. You can come up with a better plan by learning from their mistakes. Make sure you involve users' reviews in your mobile app research. Ask your target audience what they want in an app like yours. Evaluate their demand and select the critical elements to suffice them.
2. Understand your Users
Building an app without getting a grasp on what your users want is a significant risk. It is essential to understand your customers' needs before starting the app development process. Your app's success directly depends on your users. Therefore, it's important to come up with a product that solves their problem and adds value to their lives.
Take feedbacks and suggestions from customers. Ask them what they look for in a product. Collaborate your objectives with your users' demands, and lead towards the way to success.
3. Choose the Right Platform
The choice of the right platform for your mobile app can be perplexing for the owner. However, choosing between Android and iOS, the first thing you should be thought of is the geographical location where your potential app users reside. For instance, in the United States, the ratio of iPhone ad android users is almost the same. Now you need to consider the features of your app. Does it suit more to android or iPhone users? A safer option is to go with a cross-platform app to cover most of your target audience. Otherwise, the right choice of the platform affects the scope and flexibility of an app.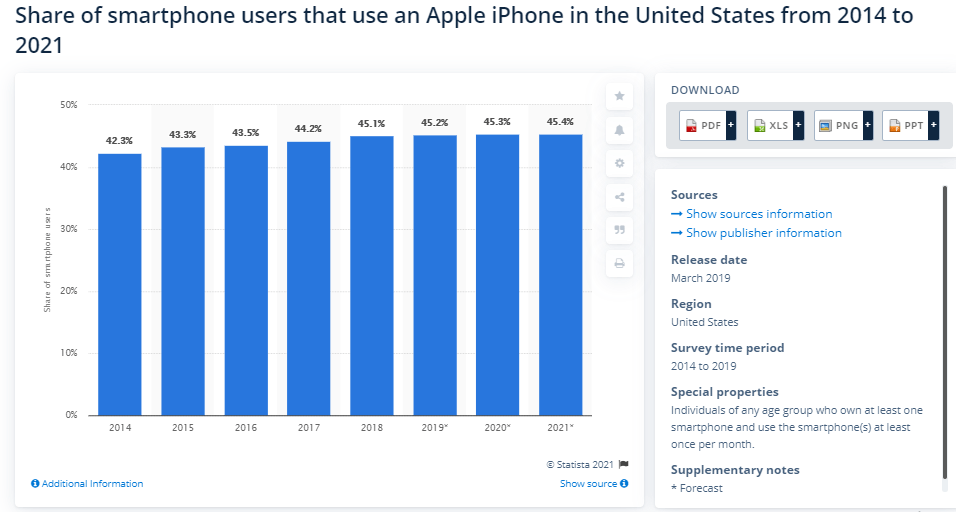 4. Choose the Right App Development Company
You are the one who comes up with an app idea, but how your app is going to look in its final stage depends on the mobile app development company that develops it. The execution of your idea is hooked on the team that develops it. Therefore, the role of the app development firm is very critical in transforming your dream into reality.  If the app is user-friendly, intuitive, and aesthetically pleasing to users, it is more likely to succeed. On the other hand, the bad execution of a great idea can lead your app towards failure. 
Make sure that the team of developers you select has sound knowledge of mobile app development processes and phases that ends up offering the best usability and user experience. The developer should consider intuitiveness while building the app so that users can perform their designated tasks without any assistance.
5. Find the Right Reason for Building an App
This is one of the most important inquiries that take the burden of the whole development process. If you want to build an app for your business or want to fulfill a potential idea, you must know that why building an app can be helpful to achieve your business objectives.
You must figure out how an app can help you in ways other than a website cannot do. You must build a strategy to differentiate among services you offer through your app and your website (if already existing).
A clear vision is critical to building an app that has the potential to grow and achieve success. In addition to this, your app should collaborate your business objectives and the all the right ways to accomplish them.
If you want your app to succeed in the real world, you should be testing your app before launching it for the common audience. If you don't know what an MVP is, you can learn more about MVP to get a better idea. For now, it is a basic version of your prospective app with minimal and most critical features.
MVP allows having a deep analysis of your app. It lets you understand the crux of your app in a precise way before launching it to your target audience. MVP helps you find answers to many significant questions, including the following:
What solution does your app offer?
Which is the most prominent feature in your app?
What's the most convincing element of your app which makes it a must?
Which features should you add to your app?
Which features you should be prioritizing or highlighting in the final version of your app?
7. Determine Ways to Earn From Your App
App monetization is crucial for any app to survive in marketing. There are different ways to monetize your app. you should be finalizing the monetization strategy for your app before the development. There are different ways like ads, in-app purchases, the fermium model, and paid apps. You can go for beta testing to analyze the best monetization option for your app. it also helps you set your foot right in the app store and convince your audiences by letting them know that there's something critical in the app for them.
To learn in detail about Mobile app monetization strategy, read this.
8. Market Your App
App marketing is a key factor in determining the success of your app. How is your app going to be succeeded without even people knowing it? Let your target audience know about your app; market your app. mobile app marketing is often neglected at many businesses and entrepreneurial projects, and then they kept on finding the reason for their mobile app failure. Besides the app SEO and organic social media marketing, marketing on a greater level is crucial for app success.
Conclusion
Considering all of the elements mentioned above in a mobile app development process can help to make a robust app that is less likely to get unnoticed in the app store. Mobile app development is more of a strategic process than a technical one. For this reason, the process throughout the design and development must be executed with a strategic approach.
Get a Successful Mobile App for your Business!
contact us