After digitalization has a significant change in everything from shopping to dining, entertainment to finance, and education to jobs, the needs of life have dramatically changed. One of those changes that digitalization brought includes the availability of mobile apps as a solution to some longstanding problems. From social media to car booking service and online grocery delivery apps, the emergence of the mobile app business has brought a lot of ease in users' life. The last decade witnessed a rapid growth in popularity and usability of mobile apps among common people. Talking exclusively about grocery delivery apps, it took people out from unnecessary struggle of driving to a grocery store for every other household item.
Grocery delivery apps provided convenience, easy accessibility, and generalization. The technology made it possible for people to digitally visit numerous retail outlets and superstores, all with just a few taps. The distance shrunk, and solution fetched at our fingertips. On top of all, grocery delivery app solutions became a massive help for common people during the COVID-19 pandemic and lockdowns. It helped families to stay at home while all the necessary groceries are delivered at their doorsteps. This blog aims to throw some light on how grocery delivery apps are making a difference in people's lives, particularly in the Covid-19 lockdown.
The Need for Time
The online grocery delivery apps work to deliver groceries from supermarkets to people's houses. These apps become a source of communication for those in need of a service and for service providers. These apps become one of the significant sources of help during the recent pandemic because people can get access to the necessities of life without stepping out of their safety zones. This made online grocery delivery app a promising business model to start for entrepreneurs and investors. App stores have seen a significant increase in downloads of grocery delivery apps, particularly in the lock-down period all around the world.
An increased number of people have started using grocery apps for increased convenience since they can quickly get their regular use items delivered at their homes. It aids in minimizing the spread of the life-threatening virus. Especially after the overwhelming rise in the virus spread, without a second thought, people prefer to stay at home and get help from the grocery delivery services to get their needs meet. As a result, several small and large superstores and home marts have launched their mobile apps using iOS and Android mobile app development platforms to meet the escalating demand in the society.
How Online Grocery Apps Contribute to the control of the pandemic?
As a matter of fact, online grocery delivery apps have seen criticism in the past, sometimes due to user satisfaction or low-quality products, and even for having errors in app's features and payment method issues. However, they have been a blessing in disguise during the lock-down. It contributes to people's well-being in the form of security, easy accessibility, and time management for work from home. Thus, it cannot be denied that they have played a crucial role in the control of COVID-19 by delivering the essentials to people right at their doorstep. The on-demand grocery delivery apps have brought ease in the app complexity with better functionalities and timely changes. These apps have the potential to gain more popularity in the coming months, and the users will leverage the features resulting them into one of the most sought-after applications in the market.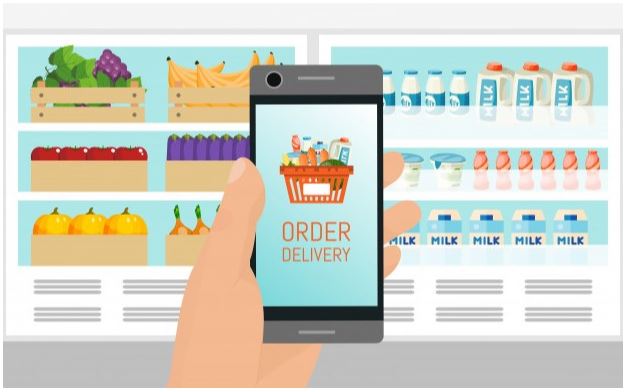 Benefits Of Online Grocery Delivery Apps
There are several benefits of a grocery delivery app. As soon as people get used to these apps, they can bring a promising business for store owners and app developers in the coming months.
People get the comfort of ordering directly from their smartphones while sitting at their homes, offices, or anywhere.
People no longer have to stay in long queues and wait for their turns at the counter. Now they can easily add products to their cards, use a convenient payment method, and place their order in much less time as compared to physical shopping.
The pandemic has reportedly increased the number of shoppers on online platforms. The epidemic has brought a change in the mindset of people to order groceries online. People love this service as they get their daily life essentials in the comfort of their homes without compromising the safety of themselves and their loved ones.
Hassle-Free Shopping with Safety
People can use the hassle-free apps, as most professional mobile app development companies prefer to design and develop the app with a minimalistic approach. All a user is required to do to place an order is selecting the products, adding location, and selecting a secure payment option. After verification, they get their order at the estimated time of delivery.
Online grocery shopping can help people save more on the bill amount. They not only save on the traveling cost to the supermarket, but they also get exclusive benefits, including membership discounts, discount codes, coupons, etc.
Above all, people can stay safe with their loved ones without being worried about running out of groceries. They can receive contactless grocery deliveries within hours.
Summing Up the Idea
More and more people are learning that their time is more precious than a few bucks in the form of delivery charges. People love to pay for the value that they receive through efficient user experience in grocery delivery services. These apps help people receive daily needs without investing a lot of time and energy in grocery stores. No matter where you live and how rich you are, grocery is a need for all, which is why app stores have reported an increase in the number of downloads for grocery delivery apps during the pandemic.
Besides this, people are going to continue with their habit of shopping grocery online using the app even after the lockdown is over. If people find the service feasible for them without any hassle in user experience or glitches in the app structures, it is definitely going to benefit to app owners and mobile app development companies for an enduring period as well. In the US, apps like Walmart and Amazon pantry have received the maximum number of downloads. This probably continues to dominate the online grocery delivery sector even after the lockdown is over.